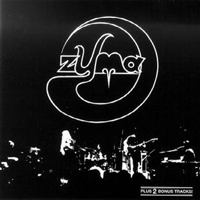 One could be forgiven for thinking that "Zyma" were british for there style has a canterbury sound with "Curved Air" like female vocals. They are actually German, based there anyway.
This is a nice mix of other styles too however, from "Soft Machine" like jazz-rock, canterbury and folk.
" One Way Street " is the most inventive piece with some very erotic vocals and musical mayhem.

" Wasting Time" is undoubtedly the best song with excellent vocals, piano and violin and "Law Like Love" which amazingly at times resembles some "Pancake" from there "No Illusions" album. Check out the tasty guitar and bluesy vocals on this one!

Not exactly a classic, as it's a little uneven in places but does contain enough great music to warrant a place in anyones prog rock collection.

Songs / Tracks Listing

1. Thoughts (8:19)
2. Businessman (12:33)
3. One Way Street (8:04)
4. We Got Time (3:43)
5. Wasting Time (9:39)
Bonus tracks:
6. Law Like Love (7:04)
7. Tango Enough (6:01)

Total Time: 55:23

Line-up / Musicians

- Günter Hornung / keyboards
- Bodo Brandl / bass
- Meinrad Hirt / vocals, flute, keyboards, violin
- Karl Heinz Weiler / guitars, vocals
- Tim Pfau / vocals
- Karl-Heinz Weiler / drums

Zyma - Wasting Time