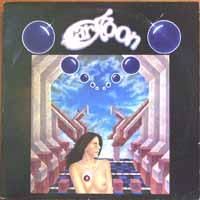 The american band from Phoenix Arizona "Cartoon" played a very complex RIO akin to bands like "Univers Zero" "Henry Cow" and "Samla Mammas Manna".
For a trio these make quite an extraordinarily complex concoction. Seriously fine musicianship also gives way at times to some humorous interludes akin to the tongue in cheek humour of the "Samlas", especially on the opener " Shark" .
"Ptomaine Poisoning" begins very fragmented and disjointed but soon lurches into something like a lighter "Univers Zero" before getting darker with marching drums , bass and Piano which definitely has some darker "Univers Zero" " Present" sounds.

"Anemic Bolero" is swinging RIO with some acoustic guitar, intense electric guitar and all out madness! The rest of the tracks follow in a similar vein with "Shredded Wheat" climaxing with some furious band interplay!!
With just two album releases this is probably the slightly better of the two. Most of this maybe an aquired taste but if you have it then it's a treat! Although this reminds one of "Univers Zero" on the whole it is not as dark. A gem with just a hint of Zeuhl in places.
Get It
Link
Songs / Tracks Listing
1. Shark (8:16)
2. Ptomaine Poisoning (8:02)
3. Anemic Bolero (3:33)
4. Flotsam (4:01)
5. Apathy In America (5:33)
6. I Have No Teeth (1:03)
7. Shredded Wheat (11:22)

Total Time 41:10

Originally recorded in 1979/80, at Synchestra Studios, Phoenix, Arizona.

Line-up / Musicians

- Scott Brazieal / keyboards
- Mark Innocenti / guitars, bass (2)
- Gary Parra / percussion