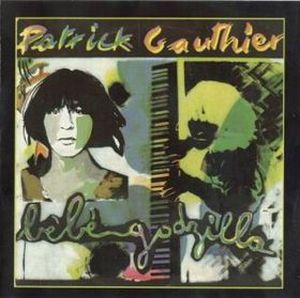 Accomplished keyboard player Patrick Gauthier the founding menber of Frances "Heldon" has intermittently played with Magma and formed offshoot "Weidorje" with bass player "Bernard Paganotti".
This, his first solo album has many luminary guest artists from "Richard Pinhas" "Christian Vander" to "Bernard Paganotti" and "David Rose". Many of which are among Frances top session players.
As expected this is a great mix of RIO / Fusion and Zeuhl. The title track has great "Christian Vander" drumwork and wailing
"Richard Pinhas" on guitar and deep "Paganotti" bass.
Elsewhere theres some similarity to Michael Altmayers "Troll" with the melodic violin and piano." Mixter Trautonium " is an excellent systemic styled piece. "Heldon" is another highlight. "En Passant Par La Transylvanie" is slightly ethnic with driving tablas and with more fine systemic RIO moves. Best track though is the last "Nor" which blends light and dark melodies perfectly in the zeuhl style with excellent keyboard work and drums from "Kirt Rust".
An excellent album which i feel would have benefitted by having longer tracks.
Songs / Tracks Listing

1. Bébé Godzilla (5:35)
2. Le Grand Maître-Orient (2:19)
3. Mixtur Trautonium (2:53)
4. Benoît Et Les Riverboppers (4:10)
5. Heldon (4:25)
6. Riding On White Horses (1:37)
7. En Passant Par La Transylvanie (4:53)
8. Nör (8:17)

Total Time 34:09


Line-up / MusiciansPatrick Gauthier / Keyboards, Marimba, Piano [El-piano], Polymoog
Bernard Paganotti / Bass
Christian Vander / Drums
Richard Pinhas / Guitar, Performer [Moog Programming]
Didier Batard / Bass
Yvon Guillard / Bugle
Alain Guillard / Flute [Bass]

Patrick Gauthier - Benoit Et Les Riverboppers (To Jacqueline Ferrari)