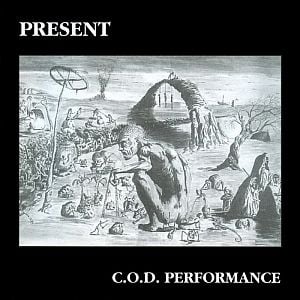 After "Present" disbanded "Roger Trigaux" joined with son "Reginald" to form "Present C.O.D Performance"in the early 90's which eventually with "Daniel Denis" and friends became once gain "Present" On this album though it is just "Trigaux and son.
Starting with the strange "Love Scorn" we have pulsating intense guitars and doomladen lyrics/vocals. Kind of like a weirder darker Frippian trip. After 5 minutes screaming guitars start to wail in similar "Richard Pinhas" style which has an improvised feel, then all hell seems to break loose as we lurch into more familiar dark pounding guitar stabs "Trigaux" style. All this without any drums by the way, just a few percussives.
"Alone 1" is in a similar vein but far more melodic in parts. The guitar dialogues are excellent here as "Trigaux" and son bounce off each other shared intricate guitar patterns. A very absorbing and interesting piece which in parts ( as does "Alone 2" ) hearkens back to the classic "Promenade Au Fond D'un Canal" from "Triskaidekaphobie". I'm referring here to certain sections and the intense climax of that piece.
"Alone 2" which is the longest track closes the album in a similar vein to "Alone 1" Excellent guitars once again, and with vocals once again which returns the theme of the "Love Scorn" track .There's an even stronger guitar presence on this piece, all of which is very well executed. At the 14 minute mark the vocals and guitars become extremely intense with flanged lead guitars breaking loose. Unusually the climax actually veers more towards straighter rock All in all this is the best piece on the album.
If your a fan of "Univers Zero" "Present" ; more experimental RIO and Zeuhl styles and "Trigaux" then this is essential. A superb album!
Songs/Listing
1. Love Scorn (9.220
2 Alone 1 (14.28)
3 Alone 2 (49.03)


Total Time: 48:40

Line-up / Musicians

- Roger Trigaux / guitar, vocals, percussion
- Reginald Trigaux / guitar, vocals, percussion

Releases information