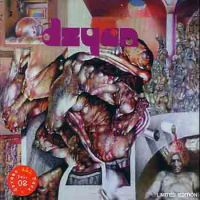 Dzyan's debut album is a really good blend of inventive jazz/rock, canterbury fusion.
Less jazzier than there other two albums. It all kicks off with the excellent "Emptiness" which goes through several changes with sax and bass/guitar / percussives - a touch early Passport maybe and Soft Machine here and there. The "Wisdom" is more unusually song structured but suffers from a rather weak guitar section.
"Hymn" is very bleak and "Back To Earth" spices things up with straight heavy rock guitar/bass and drums. "Foghats Work" and "Dragonsong" are my favourite tracks which definitely have some early "Magma" zeuhl elements especially with the vocals.
All in all not an easy album to get into with all the contrasts, and not on a par with there other two albums ( especially "Time Machine") this is nevertheless a very good listen on the whole if you want your jazz/rock more inventive and just plain different.
Download
Songs / Tracks Listing
1. Emptiness (9:39)
2. The bud awakes (2:57)
3. The wisdom (10:21)
4. Foghat's work (6:31)
5. Hymn (1:12)
6. Dragonsong (7:31)
7. Things we're looking for (1:52)
8. Back to Earth (4:11)

Total Time: 44:14

Line-up / Musicians

- Ludwig Braum / drums, percussion
- Gerd Ehrmann / saxophone
- Reinhard Karwatky / bass
- Harry Kramer / guitar
- Jochen Leuschner / percussion, lead vocals

Dzyan - The Wisdom