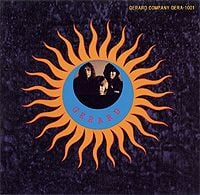 First album featuring new versions of prog-rock legends songs called "Keyboards Triangle" was recorded in 1999 by two Japanese bands: "Gerard" & "Ars Nova". It was really splendid disk which many prog fans enjoyed and praised quite much. It's a pity that most of people don't know that in 2002 second part of this project was recorded, this time solely by "Gerard". Name of this release is "Keyboard Triangle 2" (yes, "keyboard" not "keyboards" like in the first part).
Compared with first part this album is significantly shorter and less diverse (only one band is playing - "Gerard", and only 3 bands are covered - "King Crimson", "UK" and "ELP"). However I can assure you that it includes ones of my favorite music pieces out there! I can even say that I like it more than "Keyboards Triangle" because covers are much tighter and less crazy-in sake-for-being-crazy here. Almost no dull, over-played, repetitive madness here, just pure prog-rock enjoyment. That's why I love it so much.
Let's find out how Toshio Egawa and his colleagues "butchered" those classics using keyboards power trio (+vocal) formula:
1. "21st Century Schizoid Man" - cover of the most famous King Crimson's song is astonishing! Instead of guitar and saxophone which led this track in its original form, we have extremely intense synthesizer riffs and fat, over-driven Hammond organ runs. Simon Nakaji which guesting on vocal duties on this album sounds truly demonic singing through some electronic device which modulate his voice (just like Greg Lake in original). Fully expanded organ solo with all of these ELPish pyrotechnics is a really nice surprise here too. To be honest I enjoy this version as much as KC's original.
2. "Danger Money" - another song and another fantastic cover. This time "Gerard" decided to presents us their own vision of song "Danger Money" from British band "UK" repertoire. This cover is more similar to original one because of similar instrumentation used: synthesizer & organ, but I have to admit that these medieval-like vocal harmonies shared between Simon Nakaji & Atsushi Hasegawa sounds even better than in original for me! Only this "Danger Money!" part sounds a bit cheesy because of some strange electronic voice modulation. Very good version indeed but doesn't bring anything new to the original.
3. "Knife Edge" - my favorite song on "Keyboard Triangle II", truly splendid. You thought that Emerson plays mean organ riff in original ELP version? So check out how Egawa hits us in the head with even more brutal Hammond delivery! His organ truly rips our ears apart! His solo in the middle is even more vigorous & lightning fast than Emerson's, and includes all necessary shrieks, "explosions" and other pyrotechnics. I can only add Simon also sings with real anger so suitable for this composition. I didn't think that it's possible, but I really prefer this version to the original one.
4. "Alaska / Time To Kill" - another track is a medley of two compositions of "UK". Just like original is starts with space rockish, echoing synthesizer flights but after less than 2 minutes Egawa's organ strikes back again with double power. While I'm not a big fan of original "Alaska" tune, here this composition bursts out with its full symphonic splendor. Toshio really knows like nobody else how to treat his Hammond to create so flashy-violent sound. After this instrumental section comes "Time To Kill" which I don't enjoy so much. Simon's voice seems to be a bit too screamy and out of key here. Thankfully later on we can listen to delightful violin soling sounds created on some truly fantastic synthesizer (yes, you have to check it out to believe that violin can be so perfectly mimicked on keyboard!).
5. "Lark's Tongues In Aspic Part Two" - to be honest I'm not a big fan of King Crimson's original, however Gerard's version seems to be less "forced" and more interesting for me. Once again Egawa uses his violin-like synthesizer here and mix it with swirling organ grooves. His Hammond solo (another Hammond solo on...King Crimson's composition! Robert Fripp would be surely puzzled while listening to this staff :-) is astonishing as always and sounds very powerful & symphonic. Just great!
In 2 words: must have! "Keyboard Triangle" is a perfect staff for all keyboards-driven goers out there. If you want to know how sound organ & synth based King Crimon's classics, proceed to this album immediately! You want to know how ELP's and UK's compositions sound when they are re-arranged by Japanese keyboards wizard Toshio Egawa - check this album. Just like "Keyboards Triangle", its second part is a brilliant symphonic prog release from "the country where cherry blossoms" which should be checked by aficionados of other keys-driven groups like "ELP", "Trace", "Triumvirat", "Le Orme", "Collegium Musicum", "Little Tragedies" or "Social Tension".
Songs / Tracks Listing
1. 21st Century Schizoid Man (8:02)
2. Danger Money (8:02)
3. Knife Edge (6:32)
4. Alaska~Time To Kill (7:40)
5. Lark's Tongues In Aspic Part Two (6:54)
Total Time: 37:10
Line-up / Musicians
- Toshio Egawa / keyboards
- Atsushi Hasegawa / bass, chorus
- Masuhiro Goto / drums
- Simon Nakaji / vocals