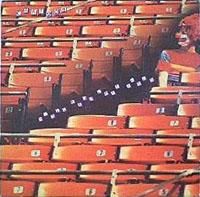 With an added violinist and woodwind player this second release by "Cartoon" differs somewhat to there previous.
A step on progressive wise with a greater pallette of sounds including ambient/ weird soundscape interludes blended with the more esoteric RIO and avant complexities.
We still however get to hear the "Universs Zero" type of sound with some humurous moments too ( The Twilight Zone theme? ). Check out "Scherzo" for some bizzarely funny berserk strangeitude.
Great album and there's more than a nod to some "Art Zoyd".

In it's way this is almost as good as there first album!


Songs / Tracks Listing

1. Quotes (15:33)
2. Bedlam (4:47)
3. Light In August (5:44)
4. Scherzo (3:40)
5. Bottom Of The Ninth (4:04)
6. Trio



Line-up / Musicians

- Scott Brazieal / keyboards
- Mark Innocenti / guitars
- Gary Parra / percussion
- Herbert Diamant / woodwinds
- Craig Fry / violin, French horn