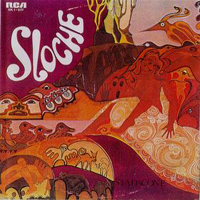 Another classic album from this canadian band. Probably less Gentle Giant sounding on this one with more of a Canterbury jazz / rock fusion and at times quite experimental as on "Il Faut Sauver Barbara" which has an early "Univers Zero" "1313" sound at times.
All in all exemplary musicianship from all concerned.The longer pieces give them more of a chance to stretch out. There's some nice vocals too, as on the title song and "Le Cosmophile".
Check out "Ad Hoc" for some geat guitar. This is a refreshingly superb listen every time.
Songs / Tracks Listing
1. Stadaconé (10:17)
2. Le Cosmophile (5:40)
3. Il Faut Sauver Barbara (4:16)
4. Ad Hoc (4:30)
5. La 'Baloune' de Varenkurtel au Zythogala (4:57)
6. Isacaaron (Le Démon Des Choses Sexuelles) (11:19)

Total Time: 40:59

Line-up / Musicians

- Réjean Yacola / keyboards
- Martin Murray / keyboards
- Caroll Bédard / guitars
- Pierre Hébert / bass
- André Roberge / drums & percussions
- Gilles Ouellet / celesta, percussions

Sloche - Le Cosmophile

Sloche - Ad Hoc

Download mp3