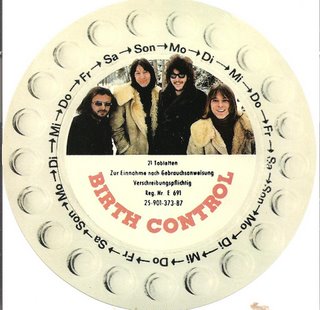 First album for this German band which is playing a heavy psychedelic rock deeply inspired by Purple Mark I and to a certain extent the heavy keys play is rather similar to the one of Hensley (Heep).
The sound is a bit outdated of course, but there are some excellent numbers here. "Recollection" and the long "Sundown" are the highlights from their debut. Both feature great organ play and the latter has an excellent upbeat tempo. They are pure instrumentals.
This album also features some sung tracks like "No Drugs", "Deep Inside", "Foolish Action". And, surprisingly, the vocals are pretty decent which is not always the case with German bands.
The cover of "Light My Fire" fits perfectly well in their repertoire. The sound of the organ is of course not the Manzarek one, but I am keen to say that this version is quite good. Faster than the great original.
There is a CD version for this album. Released in 1997, there are four bonus tracks. They don't add anything extraordinary but these sixteen additional minutes are in the same vein than the original album. October is my preferred one.
All in all this is a good album. Very much from its time. Three stars. Review from
Pogarchives.com
Songs / Tracks Listing
1. No drugs (4:01)
2. Recollection (6:24)
3. Deep inside (4:40)
4. Foolish action (4:32)
5. Sundown (10:02)
6. Change of mind (4:42)
7. Light my fire (5:40)
Total Time: 40:01
Line-up / Musicians
- Bruno Frenzel / guitar, vocals
- Bernd Koschmidder / bass
- Bernd Noske / drums, vocals
- Reinhold Sobotta / organ