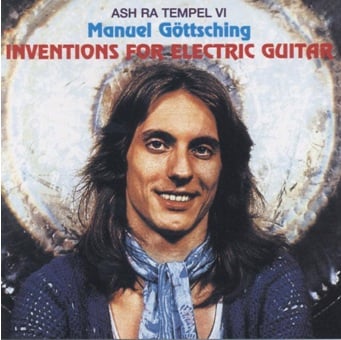 Legendary guitarist and founder member of "Ashra Tempel" and later "Ashra" goes solo, with a groundbreaking foray into echo guitar manipulations with elements of trance and minimalism, which he was to explore even further on "E2-E4".
These are seminal works on the whole and gems of the genre.
It's amazing to think that one guitar player created this great album. I have heard Ash Ra Tempel's/Manuel Gottsching's material in the past, but this album is my first actual purchase. IT seems to me that this album is fairly underrated by most proggers. Most of the criticism I hear towards the album is negative. I think that for what it is worth, this is a great album.
Manuel Gottsching is a guitar wizard. He creates passages in the compositions that flow from one to another. The sound is very electronic obviously and quite spacey. The pieces also seem to put the listener in some sort of hypnotic phase or trance. It is hard to pick a favorite track on this album because the whole is very solid and made up of only three long compositions.
This album may seem like a bore for some, but to me, it is an excellent listen. Sure, it is relaxing and can easily induce sleep, but some of the best music is like that. Take, for instance, Brian Eno. Much of his ambient work puts me to sleep (that is, when I am tired!!!), but these pieces still show how great he is at composing and creating musical sketches. In this case, I recommend this album to someone looking for a hidden electronic music gem. It is truly amazing that one guy played all this stuff.
It's an excellent addition to any prog lover's collection as long as they know what they are getting into before they go out in get it. They might actually enjoy it. While not a masterpice, this album still deserves four stars and is strongly recommended!!!( Review from Progarchives.com)
Songs / Tracks Listing
1. Echo Waves (17:45)
2. Quasarsphere (6:34)
3. Pluralis (21:36)

Total Time: 45:55
Line-up / Musicians
- Manuel Göttsching / guitars only
Download Inventions for Electric Guitar
Manuel Göttsching - Quasarsphere
Manuel Göttsching, performs "more INVENTIONS FOR ELECTRIC GUITAR" - Echo Waves @METAMORPHOSE2010
Manuel Göttsching, performs "more INVENTIONS FOR ELECTRIC GUITAR" - Pluralis @METAMORPHOSE2010
Download mp3