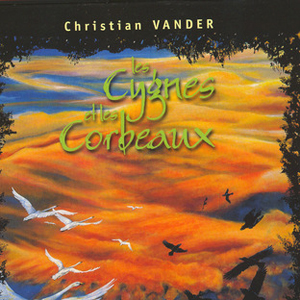 Another fine album by "Vander" which is not really like "Magma" at all ( no drums ) except in the vocal department, which is very profuse on this album. Very unique music as expected and very sublime.
Quoting "Vander" "I have found in the motion of swans and crows a parallel with the inner motion of the Kosmos itself. Or, at least, this is what I perceive in it."-Christian Vander, 6th March 2002.
Over 1 hour of flowing neo - impressionist emotive excursions, which spiral, cascade, repeat and flutter to the core of ones senses. A marvel really which is distinctly "Vander"!!
Songs / Tracks Listing
1. Des Profondeurs (1:31)
2. Sahïss Siïaaht (5:01)
3. La Vent (2:28)
4. En Avancant Vers le Vent (1:02)
5. La Semeur Vers le Nord (0:59)
6. La Semeur Vers l'Ouest (1:49)
7. Le Semeur Vers le Sud (2:09)
8. Le Ciel de l'Océan (2:17)
9. Les Cygnes et Les Corbeaux Sont Venus (2:09)
10. Vent et Nuees d'Oiseaux (0:38)
11. La Semeur Vers l'Est (3:00)
12. Le Vent Disparait (1:05)
13. Les Oiseaux Bruns (4:00)
14. Les Oiseaux en Colère I (2:13)
15. Les Oiseaux en Colère II (3:49)
16. Les Oiseaux en Colère III (6:35)
17. Les Oiseaux en Colère IV (6:37)
18. Les Oiseaux en Colère V (4:34)
19. Mon Oiseau Est Parti Pour un Dernier Voyage (1:06)
20. Les Oiseaux Blancs et l'Oiseau (1:06)
21. Vers l'Ineluctable (1:19)
22. Chant Unique Pour Appeler l'Oiseau I (1:44)
23. Chant de La Fatalite (2:32)
24. Chant Unique Pour Appeler l'Oiseau II (1:44)
25. Repos (1:29)
26. Chant Posthume (1:41)
27. Des Profondeurs (0:47)
Line-up / Musicians
- Christian Vander / Lead vocal, acoustic piano, Fender piano, orchestra keyboards, tambourine, mixing
- Stella Vander / Lead vocal, background vocals, orchestra keyboard programming, mixing
+ Isabelle Feuillebois / Lead vocal, background vocals
+ Julie Vander / Lead vocal, background vocals
+Bénédicte Ragu / Lead vocal, background vocals in L'appel
+ Virginie Coutin / background vocals in L'appel
+ Bertrand Cardiet / Lead vocal in Le ciel de l'océan
+ Alex Ferrand / background vocals in Les oiseaux en colère III & IV
+ Pierre-Michel Sivadier / Keyboard in Prologue
Download mp3