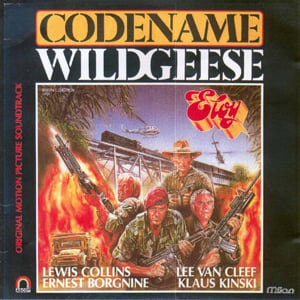 One of "Eloy's" more harder to come by albums.
This is a stripped down line up of "Eloy" with the guitar/ keyboard and bass player only.
I remember seeing this film many years ago, a second rate action/ war film really, with an international cast....not so the music though....if you like your "Eloy" with lots of synths and a straighter space rock approach ( like Metromania but on the whole without the heaviness ) then this is for you i would say, and not half as bad as some might think....just my opinion. It has the trademark "Eloy" synth sounds for sure.
I find this a most enjoyable album personally.
"Destiny" Mono version
Songs / Tracks Listing
1. Patrol (2:47)
2. Hongkong Theme I (3:32)
3. Hit And Run (1:38)
4. Queen Of Rock'n'Roll (2:36)
5. Destiny (4:34)
6. Discovery (0:50)
7. Juke-Box (1:58)
8. Deadlock (1:30)
9. Cha-Shoen (3:35)
10. Sabotage (1:20)
11. On The Edge (3:30)
12. A Long Goodbye (2:13)
13. Face To Face (1:47)
14. A Moment Decides (2:07)
15. Revenge (1:13)
16. Hongkong Theme II (1:07)

Total Time: 33:30

Line-up / Musicians

Original soundtrack recording to the movie starring:
- Lewis Collins / Ernest Borgnine / Lee Van Cleef / Klaus Kinski

Performers include:
- Hannes Arkona / Hannes Folberth / Klaus-Peter Matziol / J. Nemec-Bolek

Download mp3