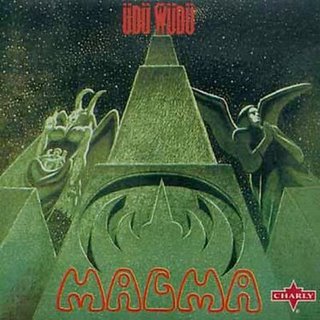 This album is very different from the masterpiece, Mekanik Destruciw Kommandoh. The operatic vocals are not as prevalent on this album, although all lyrics are still in Kobaian. This was in fact my first Magma purchase, and I can safely say that this release got me interested in the rest of the discography. The musicianship and uniqueness is all there. Vander and company create a truly great work.
The album itself starts out with the title track, "Udu Wudu." This is probably one of my favorite Magma compositions because it is so different than the other things they have done. It is very ethnic, upbeat, and most definitely catchy. The next track, "Weidjore," recalls the earlier Magma style. The excellent musicianship is ever-present on this track. "Troller Tranz" is again much like earlier MDK period Magma. It has a haunting effect and some of the trademark Magma operatic vocal parts with some synth parts thrown in to the mix.
The next track, "Soleil D'Ork," is probably the most forgettable track on the album. However, it's not bad by any means, but a little repetitive. "Zombies" is another "ghost dance" and is similar to the other one on the album ("Troller Tranz"). However, it is a little more forgettable than "Troller Tranz." The last track is definitely the highlight of the entire album. "De Futura" is one of the best tracks in all of Magma's catelogue. It has a haunting affect much like the other tracks on the album with the signature sound of Top's bass and Vander's incredible drumming with various keyboards and effects thrown in. In the end, this track really does the album justice, making it a must for every Magma or Zeuhl fan.
I think that this is a great starting point for someone interested in Zeuhl. The album is much tamer than MDK and thus much easier to get in to. So, I think that this album deserves four stars because, while still an excellent listen, it does not stand up to the masterpiece standard set by Mekanik Destructiw Kommandoh
Songs / Tracks Listing
1. Üdü Wüdü (4:10)
2. Weidorje (4:30)
3. Troller Tanz (Ghost Dance)(3:40)
4. Soleil d'Ork (ORK' Sun)(3:50)
5. Zombies (Ghost Dance)(4:10)
Side 2:
6. De Futura (18:00)
Bonus Track on Seventh CD:
7. Ementeht Re (extrait no. 2) (3:12)
Total Time: 42:22
Line-up / Musicians
- Christian Vander / percussion, vocals, piano, keyboards, drums
- Jannik Top / bass, Brass arrangements, vocals, synthesizer
- Klaus Blasquiz / vocals
- Stella Vander / vocals
- "Lisa" / vocals
- Lucille Cullaz / vocals
- Catherine Szpira / vocals
- Pierre Dutour / trumpet
- Alain Hatot / saxophone, flutes
- Bernard Paganotti / bass, vocals, percussion
- Patrick Gauthier / keyboards
- Michel Graillier / keyboards
- Benoît Widemann / keyboards