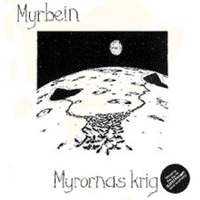 This Swedish outfit started life by playing cover songs of "King Crimson". There sound is very much like an amalgam of "Samla Mammas Manna" and "King Crimson". There's some dark heavy Zeuhl moves, but on the whole that typical unique swedish sound dominates, which like the "samlas" has that quirky sense of humor which can get very crazy at times as on "Gånglåt Till Peson".

Check out an excellent live version of "King Crimson's" "Larks Tongues in Aspic - Part 2" to hear just what a fine band these were.
There's also some hints of "Gentle Giant" and "Kultivator". This is really exceptional RIO, fantastically well played and the vocals are really cool and off kilter at times. Pity this was there only release! A Gem!
MYRBEIN music, discography, MP3, videos and reviews



Songs / Tracks Listing

Side A:
1. Intruder (0:25)
2. De Fyra Stånden (4:37)
3. G-Gosa (2:03)
4. Raus (4:59)
5. Cést Une Tre`s Bonne Maison (2:49)
6. Bara Du (5:06)

Side B:
1. Gånglåt Till Peson (3:54)
2. Ur Spår! (4:37)
3. Gjästsvamp (1:09)
4. Kurt På Taket (4:51)
5. Är Du Förvirrad (4:35)
6. Disco-Baby´ (1:02)

Total Time: 40:07
Bonus track CD Issue:
Larks´Tounges In Aspic (Part 2) (Live) (6:20)

Total Time: 46:27


Line-up / Musicians

- Bosse Lindberg / guitar, trumpet, guitar-synthesizer
- Mats Kroulhein / piano, organ, clarinet
- Anders Lönnkvist / percussion, vocals
- Johan von Sydow / bass, trombone, vocals







Myrbien - Larks Tongues in Aspic Part 2