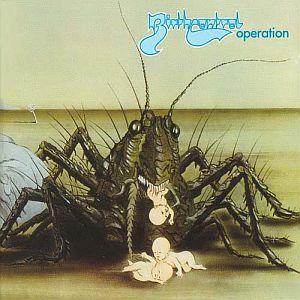 These were a great heavy krautrock band formed in the late sixties. Starting out as more of a hybrid jazz rock outfit they later beacame much more heavily rock inflenced but still progressive. Aside from the many tacky and controversial album covers and song titles the music shines.
On "Operation" you'll hear elements of "Deep Purple" "ELP" and "Black Sabbath" with superb guitar leads and organ but far more progressive and German than the straighter british rock bands as mentioned.
Standout Songs :
"Flesh and Blood"" we have great vocals here and super driving bass / guitar riffs with splendid vocals ( in german accented english).
"Pandemonium" continues in heavy krautrock vein. Rather like "Black Sabbath" ( the vocals ) this one or a really heavy "Black Widow" and again with excellent guitar and hammond organ belting it out!
"Sop Little Lady" again like a more progressive "Black Sabbath" but with brilliant "Vincent Crane" like organ.
"The Work Is Done" more super vocals and stinging guitar and my favourite track here. Reminds me a little of some early "Eloy" in parts.
On the whole a classic heavy krautrock album.
Download
Songs / Tracks Listing
1. Stop little lady (7:16)
2. Just before the sun will rise (7:35)
3. The work is done (5:56)
4. Flesh and blood (3:27)
5. Pandemonium (6:34)
6. Let us do it now (11:09)

Total Time: 41:57
Line-up / Musicians - Bruno Frenzel / guitar, vocals
- Bernd Koschmidder / bass
- Bernd Noske / drums, vocals
- Reinjhold Sobotta / organ