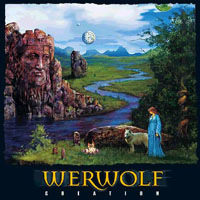 Another one of those obscure German collectors items " Werwolfs" sole album "Creation" was a nice symphonic progressive krautrock mixture where one can hear elements of other more famous bands.
Take the opener for instance "flying high" which comes across as a blend of "Eloy" and"Jane". This is the odd track out though really. Elsewhere there's some nice female vocals (sung in english) which imparts a little "Renaissance" flavor and lots of intricate synth/guitar lines.
The folky elements and melodic symphonic rock are very well balanced overall with just the right amount of complexities which makes this album a success.
Track/Listing
1 Flying high
2 The Journey to the LandOf the Flying Pigs
3 Way To Paradise
4 Daydream
5 The Game Is Over
6 The Eighth Day