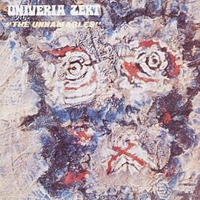 This is Magma in disguise really with a guest vocalist and trumpet player.
This album is more accessible than other magma recordings, and was, i understand, originally created to reach a wider audience in there new Zeuhl style and partly succeeds on both accounts. It's a pretty good album all round, even if the material is not that strong in comparison.
"The Unnameables" has a great production and will definitely please fans of Magma and Zeuhl. Favourite tracks are "Altcheringa" and "Africa Anteria".
1. You Speak And Speak Colegram (2:09)
4. Something's Cast A Spell (4:25)
6. Africa Anteria (11:31)
Line-up / Musicians
- Christian Vander / drums, percussion, voice (6)
- Klaus Blasquiz / vocals (4 & 7), percussion
- Francois Cahen / pianos
- Francis Moze / bass, organ
- Teddy Lasry / saxes, flute, organ
- Claude Engel / electric & acoustic guitar
- Lionel Ledissez / vocals (4)
Univeria Zekt - "Altcheringa" (1971)