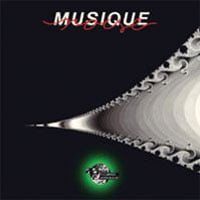 One of the many Zeuhl inspired bands treading the well trodden path of Magma.
This is certainly one of the better ones though as it has really excellent male and female vocals which are easily on a par with Magma although they are sung in French.
Not too great on originality but if your into Magma then you will really be into this. It's quite accessible too which is probably more in the vein of "Merci" period Magma. Only qualm is the closing "Pzkr" track which is really a sped up version of one the other tracks. A waste really!
Get It
Link 1
Get It
Link 2
Songs / Tracks Listing

1. Pas encore (8:03)
2. Unique au monde (8:40)
3. Mise au point (1:57)
4. Pour qui sont ces rangers qui marchent sur nos têtes? (7:46)
5. L'étroit huit (8:17)
6. Pzkr! (4:39)

Band/Line up

- Isabelle Bruston / vocals
- Jean-Philippe Gallet / vocals, saxophone
- Denis Levasseur / synthesizers & piano
- Philippe Zarka / drums & percussion
- Frederic Huynh / basses
- Xavier De Raymond / piano & synthesizer
- Simon Bot-Ban-Jok / saxophone
- Cornelia Schmid / vocals



Musique Noise - Villiers