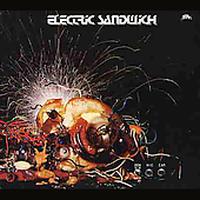 Yet again another classic one off Krautrock gem which will keep you coming back for repeated listens with it's superb mixture of psychedelic and bluesy tripped out krautyness. The parts with the saxophone as
on "Devils Canyon" remind me of fellow German band "Out Of Focus".
Excellent indeed especialy if you like bands such as "May Blitz"
DOWNLOAD
Songs / Tracks Listing

1. China (8:07)
2. Devil's Dream (6:20)
3. Nervous Creek (5:07)
4. It's No Use to Run (4:03)
5. I Want You (5:27)
6. Archie's Blues (4:55)
7. Material Darkness (5:04)
8. On My Mind (3:24)

bonus track on CD release:
9. China (single edit) (3:05)
Line-up / Musicians

Jörg Ohlert / guitar, organ, keyboards
Klaus Lormann / bass
Jochen Carthaus / sax, Harmonica
Wolf Fabian / drum

Electric Sandwich - 02 - Devil's Dream

Electric Sandwich - 07 - Material Darkness

Download mp3