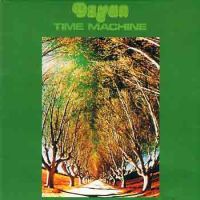 Although "Eectric silence" is usually considered "Dzyans" progressive krautrock masterpiece, i have to disagree personally. Of there 3 albums i rank "Time Machine" as there best. This to me sounds the most professional and is riveting stuff right from the start as we dive into the delights of the lengthy first track "Kabisrain". No real melodies or structure as such here, and definitely an indian / eastern influence pervades. One could say this track is quite dissonant and atonal , yet it flows superbly with it's strange melange of keyboards, guitars and drums / percussives.

"Majika" is different and more in the jazz/rock "Mahavishnu Orchestra" style, but more avant with fiery guitar and lots of complexitires. I'm also reminded of some "Terje Rypdal" in places and to a lesser extent some " King Crimson".

"Light shining out of darkness" is much lighter in mood with lots of acoustic guitar and once again recalls "Mahavishnu Orchestra"

"Time Machine" is the real tour deforce of this album. Beginning with lightning speed guitar and pyrotechnics galore we then shift moods into a more melancholic section and back again. Superb guitarwork throughout this piece with drums and bass battling it out is quite spectacular. If you love "Mahavishnu Orchestra" or "Terje Rypdals" "Odyssey" album then your in for a treat here! 17 minutes of it!!
A classic album!
Time Machine

Studio Album, released in 1973

Songs / Tracks Listing

1. Kabisrain (7:59)
2. Magika (8:45)
3. Light shining out of darkness (3:13)
4. Time machine (17:47)

Total Time: 37:44
Line-up / Musicians

- Peter Giger / drums, percussion
- Reinhard Karwatky / bass, keyboards
- Eddy Marron / guitar, sitar, saxophone
Dzyan - 04 - Khali from "Electric Silence"