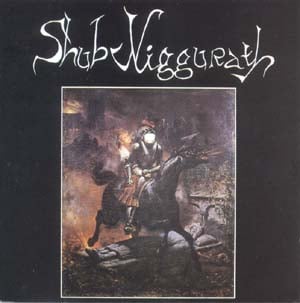 Formed in France in 1983 " Shub Niggurath" play a very dark and brooding zeuhl, experimental music. With an operatic female vocalist and (unusually) trombone we know we are in for something a little different. One can hear elements of "Univers Zero" "Present" and at times "King Crimson" especially the frippian guitar.

A very interesting and intensely arresting album which will almost definitey please "Magma" fans and the above mentioned bands.With tracks like "Yog Sothoth" there's clearly musical interpretations of "H.P Lovecraft " works.
An aquired taste maybe and not an easy listen for sure. The vocals may not be to everyones taste and to me are not as appealing as say "Stella Vanders". Great album though and very forbodingly atmospheric!
Songs / Tracks Listing

1. Incipit Tragaedia (15:46)
2. Cabine 67 (5:55)
3. Yog Sothoth (12:27)
4. La Ballade De Lénore (8:58)
5. Delear Prius (4:03)
6. J'ai Vu Naguère En Peinture Les Harpies Ravissant Le Repas De Phynée (4:19)

Total time 51:28

(These are the real track times; the cover of the CD indicates other track lengths, but they are incorrect.)
Line-up / Musicians

- Alain Ballaud / bass
- Franck Coulaud / drums
- Franck W. Fromy / guitar
- Jean-Luc Herve / piano, organ and harmonium
- Ann Stewart / voice
- Véronique Verdier / trombone
- Michel Kervinio / drums and percussion