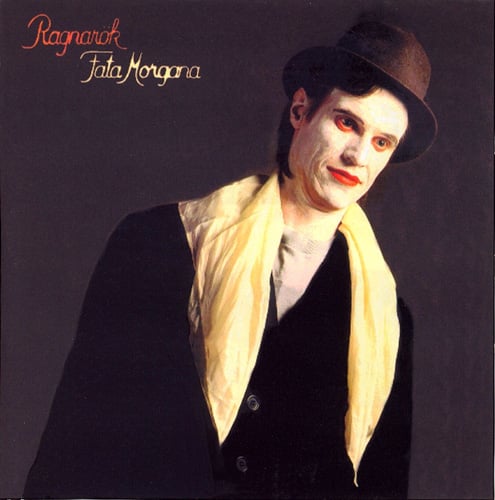 The very rare masterpiece from Swedens "Ragnarok" which unlike there lighter previous album ( though a classic ) this is a scorcher with blistering guitar and brass with that unique swedish sound. Take "Fata Morgana" an unbelievebly heavy piece which sounds unlike anything else really in the jazz rock field. Totally unique and innovative while swinging in certain parts as on "Jatora Em Bak". Then there's the excellent "Vild Av Friden" a ballad like instrumental with gritty sax blasting away in a surge of emotive power.
"Leningrad 1 & 2 are probably my favourite tracks, beginning with gentle acoustic guitars and flute, but then becoming disquiting and more intense before returning to the opening theme. Then xylophone and a throbbing bass clash with rolling drums as the piece gets more intense and builds with fuzzed guitar screams and dirty sax colliding in a marching whirlpool of sound . Suddenly a melody breaks in and we reach the climax.
The heaviest is yet to come though in the form of "Elephanten Da Tagat" , another astounding track which pulls together all the elements of the whole album. Finally we go out on a more reflective note with "Eskapage"
This is truly an unbelievable album and one of my very top recommendations, especially if you like your jazz rock more innovative folky progressive and heavy.
"Fata Morgana" is in a style of it's own partly due to the very individual "Peter Bryngellson" guitar sound. Don't miss it!!
Songs / Tracks Listing
1. Midvinterblot I
2. Fata Morgana
3. Jatora em Bak
4. Vild av Friden
5. Leningrad I & II
6. Midvinterblot II
7. Elefanten pa Taget
8. Eskapage

Line-up / Musicians

- Peter Bryngelsson / guitars, keyboards, xylophone, bouzouki, glocken spiel
- Tomas Wiegert / drums, xylophone
- Kjell Karlgren / sax, flute, keyboards
- Per F. Andersson / bass, xylophone, glocken spiel, trumpiano
- Magnus Jarlbo / trumpet, flugel hron, keyboards