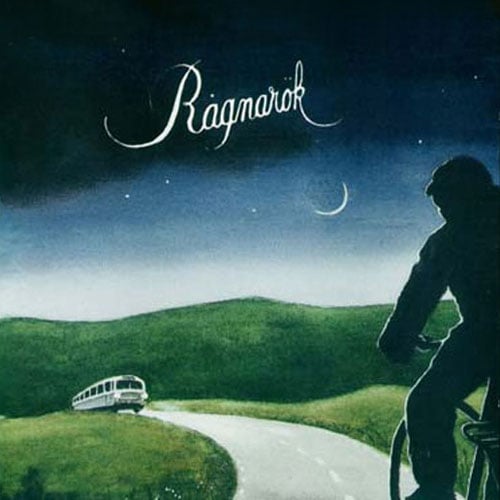 This first release from Swedens "Ragnarok" ( not to be confused by others of the same name) is their first and highly acclaimed release. Until recently i had only heard there "Fata Morgana" album which is far heavier and different to the one we have here.
With progressive rock and folk elements "Ragnarok" is very tranquil and spacey throughout with superb acoustic and electric guitar work. One can certainly hear some "Pink floyd" "Camel" in places and the folk elements are strongly

"Flasket Brinner"

styled.
There's also some really splendid flute and keyboards giving just a hint of "Jethro tull" maybe.
Add to this a top notch production and you have a fantastic album. If you like the aforementioned bands this is a must have!
1. Farvel Köpenhamn / Goodbye Copenhagen (2:30)
2. Promenader / Walks (4:40)
3. Nybakat Bröd / Freshbaked Bread (3:01)
4. Dagarnas Skum / Foam Of The Days (8:07)
5. Polska Fran Kalmar / Reel From Kalmar (0:46)
6. Fabriksfunky / Factoryfunk (4:49)
7. Tatanga Mani (4:34)
8. Fiottot (1:23)
9. Stiltje-Uppbrott / Calm-Breaking Up (4:21)
10. Vattenpussar / Pools Of Water (4:08)

Total Time: 43:19

- Lars Peter Sörensson / drums
- Stefan Ohlsson / drums, guitar
- Peder Nabo / flute, guitar
- Staffan Strindberg / electric bass
- Peter Bryngelsson / guitars
- Henrik Strindberg / electric guitar, flute, Soprano flute, Soprano saxophone

Ragnarök from Sweden