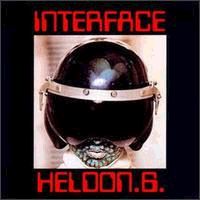 The French "Heldon" was formed in the 70's by guitarist "Richard Pinhas".

Synthesizer / sequencer and Frippian guitar dominates nearly all of there albums.

"Interface" in particular is very intense with elements of Zeuhl and "King Crimson" progressive like guitar explorations, with a heady dose of mechanical and chaotic experimentalism. There's also some Can like sound in there too.

Not really there most accessible album for the most part, but nonetheless excellent when your into there sound, which is quite unique really. The title track "Interface"
is the highlight of the album. A lengthy instrumental which sounds like "Weidorje" and "King Crimson" on a bender .
Songs / Tracks Listing
1. Les soucoupes volantes vertes (2:28)
2. Jet Girl: in New York or Paris, equivalent / in south Bronx (9:53)
3. Bal-a-fou (7:25)
4. Le fils des soucoupes volantes vertes (1:56)
5. Interface (19:02)

Total Time: 40:44

- Richard Pinhas / Moog III et B, guitar, electronics
- François Auger / drums, synthesizer, composition (4)
- Didier Batard / bass (4)
- Patrick Gauthier / Minimoog, composition (3), Moog bass