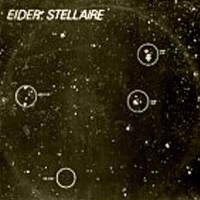 Eider Stellaires first and highly sought after album is one of the definitive zeuhl works. Right up there with the likes of Eskaton. Magma inspired music at it's best.
Unlike many Japanese magmaesque bands, which come across as too bold, heavy and just plain schitzophrenic musically , such as Ruins, this stuff is the real deal without the bombast.
Unusually for this style of music lead guitar is most prominent ( recalling ' Present ' ) and also keyboards. Making for a real treat with the splendidly rumbling bass and drums. Celestial passages are interweaved expertly with the more dynamic and heavy structures. Vocals are excellent and the whole album at only 39 minutes is perfecltly balanced and flows as a whole.
Founded in 1980 by drummer Michel Le Bars Stellaire made only 3 albums. 1 is quite rightly considered a masterpiece.
A MUST HAVE for Zeuhl fans!!!
1. Onde (1. LP Seite) (8:35)
2. Arctis 6eme éphéméride (7:04)
3. Légende (2. LP Seite) (5:37)
- Jean Clude Delachat / guitar
- Pierre Gerard-Hirne / piano, organ
- Veronique Perrault / vocals
- Marie-Anne Boda / flute, vocals
- Michel Moindre / saxophone (4)