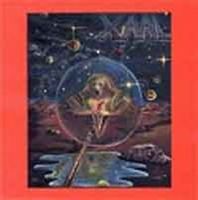 Shame that Xaal only released two albums, as this one, the first, is a real Zeuhl inspired gem.
Fronted by a very talented lead guitarist ( Jayde Ayache ) this power trio from France created some great Magma, Wiedorje , King Crimson styled music. Very energetic jazz/rock instrumental music for sure, where we are treated to a dazzling display of just guitar, bass and drums. Although there is some brass and keys on some tracks .
Although the Zeul flavors are prevalent there's also more than a nod to Frances " Shylock" and Belgiums "
Present
". The melodic guitar lines are also sometimes reminiscent of "Camel"
For zeuhl fans this is the one to get, rather than Xaal's second album "Second Ere", which is also fine but not really up to the standard of "On The Way"
Check out the live video below.


Songs / Tracks Listing

1 Child (L'Enfant) (6:25)
2 Walk (Ballade) (Version) (5:32)
3 Hhunk's Garden (le Jardin) (3:58)
4 On the Way (en Chemin) (6:37)
5 Talisman (5:14)
6 Old Butterfly Hunter (le Vieux Chasseur de Papillons) (7:40)
7 Ascension (6:38)
8 Byblos (11:09)
9 Final (:52)



Line-up / Musicians

Nicolas Neimer Bass
Xaal Arranger, Performer, Main Performer
Jad Ayache Synthesizer, Guitar (Synthesizer), Guitar, Guitar (Electric), Guitar Synth
Patrick Boileau Percussion, Drums, Engineer
Alain Guillard Sax (Tenor)
Yvon Guillard Trumpet
Stephane Jaoui Keyboards

Xaal - Live MJC Curial 1992 - The Walk (Balade)
Download mp3