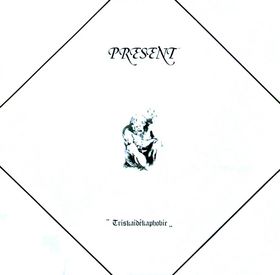 The title translates as fear from the number 13, which aptly describes this Universe Zero offshoot album with members Roger Trigaux on guitar/ keys, and Daniel Denis on Drums.
The epic first song "Promenade Au Fond D'un Canal" is a scorcher and the highlight! Dark intense , cyclicly minimalistic stabbing piano twists and turns with tempo changes galore, while the searing lead guitar almost pulverise the listener. This reminds me in parts of some Samla Mannas Manna but much darker and more violent. An exceptionally doom laden atmosphere permeates this piece with its driving throbbing bass, piano, and drums, The Frippian guitar blasts and drones at the finale, where Trigaux delivers some exceptionally searing and screaming lead guitar is, well .... devastating!!
The other two tracks are similar to "Promenade" . A litle less intense and more piano based, but nonetheless excellent.
TRISKAIDEKAPHOBIE is A brilliant piece of RIO meets Zeuhl , especially " Promenade " This is still my facvourite of all the Present tracks i've heard and ranks also with the very best of Univers Zero.
1. Promenade Au Fond D'un Canal (19:15)
2. Quatre-vingt Douze (15:36)
- Roger Trigaux / guitars, pianos
- Alain Rochette / pianos, synths
- Daniel Denis / drums, percussion