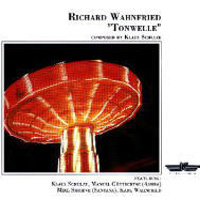 Richard Wahnfried and later just Wahnfried was a side project of Germany's synth maestro Klaus Schulze. Here we have a supergroup consisting of Manuel Gottsching ( Ashra ) guitar and the internationally famous ' Mike Shrieve' drummer of Santana. Karl Wahnfried , the other axeman is qouted as being a pseudonym for a more famous guitarist - we can only guess who!
The music here is more mainstream and electro rock than Schulzes solo works yet it does recall his Digit / Trancefer and Dune works albeit with a different vocalist than Arthur Brown , one Michael Garvens.
With just two lengthy tracks , one each side of the album , here's a short rundown :
'Schwung' is very percussive and moves and grooves with lots of lead guitars and some understated vocals. A most enjoyable 18 minute piece although it doesn't really go anywhere as such.
'Druck' begins with breathy synths, acoustic guitar and percussives. A typical schulzian sequencer/ bass adds rhythmic color to the mix and then expressive electric guitars takes us to another level. A very nice and spacey flowing track which is probably my favourite of the two.
Line-up / Musicians
- Klaus Schulze / keyboards
- Manuel Göttsching / guitar
- "Karl Wahnfried" / guitar
- Michael Shrieve / drums
- Michael Garvens / vocals