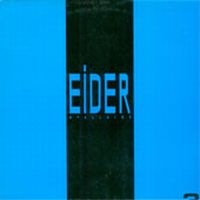 Founded by drummer Michel Le Bars, who played in " Offering " Stellaire play a very zeuhl/ jazz rock on " Nihil" which takes up the whole of side 1. A lively and intricate synth/ brass guitar driven affair which has some splendid drumming throughout. Sounds as though most of this is improvised . There's the rumbling bass here which is typical of this style and lots of greaat guitar solos which builds with more intensity as the track progresses.
Next up is L'Encre Des Litanies which has in part a slow funeraal drum beat, Janik Top like bass and again some nice guitar and keys. Theres a shift in gear later on as we get an almost De Futura like Janik Top bass line pumping away with distorted guitar and pounding drums.Supoerb stuff here and for me the best track on the album.
Finally 'San Repos' ends the album which is in similar vein to track one.
Very recommended to Magma fans!
Get It

Link
- Isabelle Nuffer / piano
- Franck Coulard / electric piano
- Jean-Claude Delachat / guitar