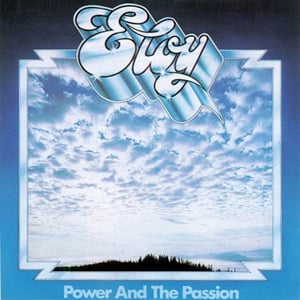 For those not in the know, Eloy named after the people"Eloi" from H.G.Wells's famous "Time Machine" were one of Germanys most succesful progressive space rock outfits from the early 70's and onwards. Power and the Passion comes from
the mid seventies when they were at there peak.
Somewhat softer and more symphonic on this release to the previous albums, this is nonetheless excellent throughout and Eloys first stab at a concept album. It was i understand initially to be be a double album but wound up a single.
Besides being softer "Power" is also more psychedelic than previous albums, with plenty of Mellotron, synhts and electric piano. I find the spoken words nice too, besides the vocals. The album artwork compliments the music perfectly as well, as we jouney on this colourful musical trip, which incidentally i find to be one of "Eloy's" more atmospheric works.It's all topped of by a really excellent last song " The Bells Of Notre Dame ". A dark and spacey, slow tempo organ/ mellotron driven piece.
If your a fan of "Eloy" ( as i am) , or not , this album is a very good place to start!
- Frank Bornemann / vocals, guitar
- Detlef Schwaar / guitar
- Manfred Wieczorke / keyboards, mellotron
- Mary Davis-Smith / voice (3 )
2. Jouney Into 1358 (2:56)
3. Love Over Six Centuries (10:05)
7. Thoughts Of Home (1:04)
8. The Zany Magician (2:38)
9. Back Into The Present (3:07)
10. The Bells Of Notre-Dame (6:26)
Download mp3