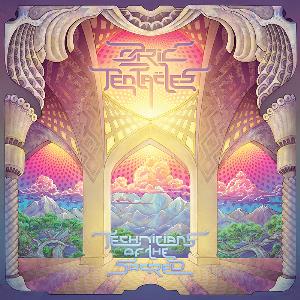 For me probably my favourite Ozrics album, and i didn't think i would be saying that, but they have come up trumps on this one.Everything seems to gel much better, musically with a plethora of excellently integrated synths/effects and just the right amount of guitar without becoming too overwhelming. Maybe i like it the most because it's probably their most spaciest tripped out outing so far. Hope they keep it up!
SC&ME


This is an album that I liked immediately--for the familiarity of the sound that is so uniquely that of OZRIC TENTACLES--but that has taken me quite some time to get familiar with. That seems to be the problem with these modern artists who release 80-plus minute long albums (Dave Kerzer, Sanguine Hum, Barock Project, Nightwish, IOEarth, Sylvan, are a few of the others who have released long playing albums this year, so far.), it takes quite some effort to listen through and to thoroughly get to know them compared to a 45-minute long release. Anyway, the patience and time invested in getting to know Technicians of the Sacred has been well worth it. This has become my favorite Ozrics release since Jurassic Shift. While all the albums I've heard have been nice, none have really possessed that magic touch that compels me to return time and again. And, while the Ozrics sound, style, and magic is pretty generic (it is often difficult to distinguish individual tracks by title--this owning to the fact that they are an instrumental band), yet almost every song on Technicians has had a way to worm into my brain, to get me engaged and then to build, shift, add, twist and turn enough to keep me interested--and, often, smiling! These guys certainly have an unique way of creating sound combinations. I cannot think of anyone quite as eclectic and electronic as them and yet they are always grooving me with their bass and drum rhythm tracks. Always! Plus, their unusual combination of spacey, "Nature" electronic walls of sound with odd and unexpected world instruments never ceases to astound me. And these guys have been doing it for 30 years! BUT they have NEVER done it better than they have on this album. Hail Technicians of the Sacred! The stars have aligned in such a way that Ozric Tentacles have created a masterpiece (of their own genre of music)!
Favorite songs: 11. "Zenlike Creature" (9:54) (10/10); 9. "Smiling Potion" (7:12) (10/10); 3. "Far Memory" (7:12) (10/10) 4. "Changa Masala" (6:05) (10/10); 10. "Rubbing Shoulders with The Absolute" (8:36) (10/10); 8. "The Unusual Village" (6:21) (10/10); 7. "Epiphlioy" (11:50) (9/10); 2. "Butterfly Garden" (5:04) (9/10), and; 6. "Switchback" (10:13) (9/10).
This is an album that is hard to find flaw with as it is all pretty engaging and highly creative (even witty) stuff. 4.5 stars rated up for its unique style and high level of consistency. Check it out for yourself. You may be surprised! Review from
Progarchives.com
It's hard to believe that psychedelic space rockers the Ozric Tentacles are now thirty years and twenty studio discs (if you count those first six cassette releases) into their career! By the time of their terrific 1999 Album `Waterfall Cities', the band had begun evolving further than ever before in an electronic-driven direction, and it was a move that would affect their sound to this very day. But although the last few albums have hardly been poor (there seems to be some opinion that `The Hidden Step' from 2000 was their last truly great moment), there was a sense of repetition sinking into their music, perhaps even signs of a band just going through the motions a little, even though each album still had plenty of stand-out tracks throughout. But it's a welcome surprise to find that `Technicians of the Sacred' is their best release in many years, and this bold, confident and creatively inspired two disc musical statement has all the acoustic, electric, ethnic, world, ambient and psychedelic flavours expected of the band, as well as wholly embracing modern styles such as Goa and psy-trance to concoct a fascinating mix as always!
The title suggests that these two discs reflect the coming together of the technological modern and future age with the ancient, spiritual and meditative ways of old. Much of the first disc moves these cyber hippies the closest they've come to more purely electronic journeys, and there's definitely less histrionic guitar wailing than any other Ozrics album. Unsurprisingly, their soundworlds are constantly upbeat, spiritually blissful and still just a little schizophrenic!
As most Ozrics pieces end in a completely different place from where they begin, it's best to simply look at some standout moments instead of entire tracks. `The High Pass' is a pretty reliable Ozric opener that sounds exactly like you'd expect them to, all synth trickles and bubbling effects, pulsing beats and delirious electric guitar meltdowns. Tribal chants float around ripples of synths, a joyous trilling loop and slow-burning guitar in `Butterfly Garden', and `For Memory' holds blissful chiming guitar ruminations and gurgling beats. `Changala Masala' is a deep electronic psychedelic trance and world music race with slinking programmed bass and frantic guitar bursts (dig the manic throwback to their earlier track `Kick Muck' ever so briefly too!), after an almost oriental themed intro `Zingbong' morphs into one of those loopy reggae diversions that the band do so well, and `Switchback' delivers cascading and joyful synth melodies that could also get you dancing in between subtle moments of long ambient low-key stretches, and they even almost flirt with a kitschy J-Pop style in the opening!
Guitar is more prominent throughout the second disc, and in some ways represents the earlier era of the band more frequently. `Epiphiloy' harkens back to the dusty mystery and eastern bazaars of `Saucers' off `Strangeitude' where hypnotic acoustic guitar intertwines with gnarling synths, gongs, hand percussion, chimes and some biting heavier electric guitars to emerge as something of a modern classic from the Ozrics, and if the band can play it in a concert setting, it's sure to become a live favourite for many fans! Dream-like synth ambience glides through `The Unusual Village' with cutting little electric guitar spikes, and your mind grinds to halt with the lethargic and distorted groaning synths dropping mud-thick grooves on `Smiling Potion'. `Rubbing Shoulders with the Absolute' (now there's a title that electronic ambient musician Steve Roach likely wished he'd got to first!) has some lovely sedate and reflective moments due to glistening electric piano fingertips and washing Alpha Wave Movement-like synth caresses, and album closer `Zenlike Creatures' combines ethereal synth waves full of wonder and equally soaring and chilled guitars.
Even in the few less interesting moments, the album still sounds like addictive sonic ear candy all the way, and while it may not always hold their strongest or most memorable tunes, it's been a while since Ed Wynne and company have sounded not only so focused and determined to impress, but wanting to prove that they still have plenty of worthwhile music to offer and are more inspired than ever. `Technicians of the Sacred' is the Ozrics at their most vibrant, colourful and downright cool for some time, and it's great to have them back and finding their tentacled muse again!
Four stars - and bombard your senses by playing it louder for the best results! Who knows, it might even have you thinking it's one of the best and most addictive albums of the prog year! Review from
Progarchives.com
The cover sure looks encouraging, some guy going by the name of Natan "MantisMash" was responsible for the cover and it's very much an Ozric cover. This guy sure has Blim's spirit in the artwork, those similar psychedelic colors (lots of yellow, orange and blue). The title I'm certain came from a book published in 1968 by Jerome Rothenberg, which happens to be entitled Technicians of the Sacred: A Range of Poetries from Africa, America, Asia & Oceania, which is as the book describes: poetry from indigenous tribes from around the world. Meaning it's the kind of book you could imagine Ed Wynne would read and likely felt this would make a nice title for the new Ozric release. Turned out Ed stated the title had to do with Mayan astrology, he made no mention of the book, but I'd be surprised if he didn't get the title of "Techicians of the Sacred" from that book.
The Wynne family included a returning Paul Hankin as well as Hungarian drummer Balazs Szende, and let me tell you this one just blew me away. It's literally the best Ozric release I've heard in a very long time, and easily the best with Brandi. This album has a more grand and epic feel than Paper Monkeys, with a more spacy vibe, and in fact perhaps one of the spaciest Ozric albums I have ever heard! Paper Monkeys seemed more rock-oriented, this one tends more heavily on world music, lots of Asian (Japanese, Chinese, Indonesian gamelan) and Middle Eastern styles, and some reggae thrown in (as they sometimes do, but used to do more frequently in their early releases). Of course, you still get treated with synths and Ed's trademark guitar playing. Lots of reminders of the Ozric past, but on some of the songs they actually try something new, such as electronic percussion that sounds different ("Zingbong" has some of that percussion that sounded like Jean Michel Jarre used on "Equinoxe V" or "Oxygene IV"), new synth textures I've never heard on an Ozric album before (I just love that gliding synth on "Zingbong"), and a strange experimental piece with strange sounding violin on "The Unusual Village". There's also strange female tribal chants on "Butterfly Garden" and "Changa Masala" while the latter also includes a quote from "Kick Muck". "The High Pass" has this grand intro, but they really get rocking.
Either I'm losing my mind, or I'm some fanboy, but I really think this is their finest release since their glory days, in fact I rank it up there with their best material ever! I know Brandi is on here, and the stuff the Ozrics done with her on board has been frequently dismissed, but for me, the truly stands tall with the classic. And in hindsight, the stuff they've been doing since Spirals in Hyperspace has been a bit inconsistent (usually some ugly techno experiment), each of those releases still had great material. Plus I found Paper Monkeys surprisingly consistent, which I felt was a turn in the right direction. Technicians of the Sacred really exceeded all my expectations, this is truly a masterpiece, although many might not agree, it sure sounds like one to me! It's a masterpiece if it consistently reenters my CD player!
Progarchives.com