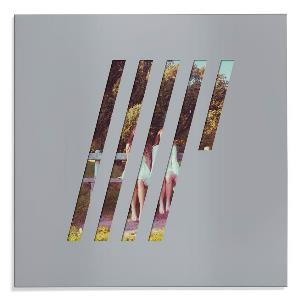 Yet another good album from Porcupine Trees main man. Most tracks seem to me though to follow the now over familiar Steve Wilson song style ,which is my only criticism here. To be honest it's not until we get to track 5 do we get into something more progressive/inventive and memorable. 'Vermillioncore' is a powerful instrumental with King Crimson styled bass. Now an whole album of this! would have been GREAT! 'Don't Hate Me' is an excellent, if unecessary reworking of one of Porcupine Trees best songs, with some female vocals and closes the album. Worth checking out for the tracks mentioned! SC&E
Steven has come back, with six easy-to-soak songs upon the newest album "4 1/2". Actually, I'm not so familiar with his creation until now enough to discuss his music style or album itself, but his previous album "The Raven That Refused To Sing (And Other Stories)" has amazed me a lot ... anyway, I could listen to and enjoy "4 1/2" with fresh feeling, whether "The Raven ..." is fantastic or not. Able to mention this album should sound like his straight attitude for pop / rock, not so innovative nor novel though. Indeed the first shot "My Book Of Regrets" has a couple of variations scattered along with his soundscape, but his music basis sounds consistent from the beginning to the end ... Various phrases squeezed can be heard as a mass of rock. This mass cannot be divided into pieces (pop and anti-pop) ... can you?
"Vermillioncore" is another heavy and cool starshine around him. Tight but distorted vibes kick us away. Her vermillion would be attractive, mysterious, and poisonous ... that could kill us swiftly only if we touch this, I imagine. Such an obvious risk and benefit he might launch via this track. Aye for him, rainy Sunday might be a colourful day, I guess through "Sunday Rain Sets In". To run and hide our heads should not always be needed under the Sunday rainy sky, but be careful to get drastic shower or dreadful thunder / lightning sometimes attacking us ... he says upon this colourful stuff. Quite simple but enjoyable. And yes, "Year Of The Plague", almost a solo track by Steven, is one of my favourite songs. We must get immersed in river-flowing-out-like rhythm prints and dreamy, heartwarming melody lines ... he might show something veiled in his inner meditative world for grabbing our serious, sincere reaction in front of the song out.
And as a result ... I suppose all of his sincerity for music would be expressed over the last song "Don't Hate Me", that sounds of kaleidoscopic appearances. Sometimes quiet, sometimes violent (Theo's freakout saxophone is pretty effective), sometimes depressive, and sometimes enthusiastic ... and every vision repeats over and over on a regular basis. This atmospheric tide formed by Steven Project cannot be avoided at all. Every rock fan can enjoy this fantastic rock dish, I'm sure!
A surprise, in-between interim bridge-between album from workaholic master composer maestro mixer masterer overachiever extraordinaire Steven Wilson!
Jumping in, I'm caught by both stylistic and technical change from recent material - the 36--minute effort finds (forgive the phrase) Wilson at his solo work's most "accessible" and what I find to be the closest to the famed Porcupine Tree sound. Out are most of the avante gardish-ish jazz jam-isms we found on his seminal Raven that Refused to Sing album and to a lesser degree found on Hand Cannot Erase (though that album certainly was more "mainstream" and less jazzy). That should come as no surprise since a majority of the material here was cut from Hand Cannot Erase.
Not being a big fan of jazz in general, this, in this humble listener's opinion, is a good thing...
Highlights-
The album opener "My Books of Regrets" is a lovely nine-minute suite that, after 10 or so listens is really growing on me.
"Happiness III" is a wonderful gem, hummable and would have fit in nicely into of the lighter material we found in 2000s-era Porcupine Tree album.
"Year of the Plague" (dark, the listener can easily tell it's the only track here from Raven) and "Sunday Rain Sets in" (from WIlson's latest) are both lovely instrumental tracks- not the best he's done but great nonetheless.
Yet another vocal-free jam, "Vermillioncore" reminds me a lot of "Bornlivedie" (especially around the 2-minute mark) from one of my all-time favorites Signify.
A perfect Wilson/Ninet Tayeb duet re-imagining of 1999 Stupid Dream's "Don't Hate Me" closes the album (of course it does) finding Wilson and his solo-career comrades perfectly replicating and expanding upon the dreary 17 year-old classic. Theo Travis effortlessly replays his saxophone solo that I've always loved in this song too.
Songs / Tracks Listing
1. My Book of Regrets (9.23)
2. Year of the Plague (4.15)
3. Happiness 3 (4.31)
4. Sunday Rain Sets In (3.50)
5. Vermillioncore (5.09)
6. Don't Hate Me (9.34)

Total Time 36:42
Line-up / Musicians
- Steven Wilson / vocals, guitars, keyboards, bass guitar
- Guthrie Govan / lead guitar
- Nick Beggs / bass guitar
- Marco Minnemann / drums
- Adam Holzman / keyboards
- Theo Travis / saxophone, flute
- Ninet Tayeb / vocals