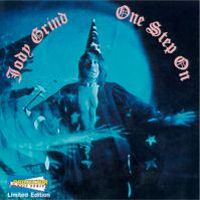 Justifiably, Jody Grind who recieved little attention at the time, are now recognized for there two classic albums which predate the likes of Deep Purple Uriah Heep Vanilla Fudges more well known releases. Check out the fantastic lengthy jam opener! All in all this is one of those albums which you will be revisiting time and time again. Superb stuff!!
JD is one of those early 70's UK proto-prog that enjoys a semi-legendary status mostly because their two albums were highly sought- after by collectors along with Indian Summer, Cressida and a few others. I must admit that I like most progheads hailed these groups as they received early 90's Cd reissues that made them fairly easily obtainable and allowed us to discover those small-unearthed gems. But some 15 years later, have those groups kept their early discovery magic? Not really, if you ask me. Most progheads marvelled at these unearthed albums (me included) because they got reissues in very dire times (just before the start of the second prog boom in 93-4), so the famined proghead was maybe a bit too enthusiastic back then, just as they were in the 80's with those neo-prog groups that wouldn't raise an eyebrow today.
JD delivered only two albums, but did so fairly early and disappeared relatively quickly from the scene, even if all three members would find future adventures throughout the rest of the decade. With this haunting and bizarre artwork, their first record was a very honest and thrilling debut, even if it was a bit indulgent in terms of songwriting. Indeed most of the tracks have a jam-derived structure, especially the sidelong title-track that included a rendition of the Stones' Paint It Black and a drum solo. But with their organ-driven hard prog, the group manages to stray fresh, energetic and maintain your enthusiasm, sometimes by short brass/horn section bursts that provided incredible surges of power and intrigue, Hinkley's organ providing much of the sound, but was often superbly seconded/answered by Holland's fiery guitar solos.
The flipside unveils what they were taunting us with: the horn section coming in a full part of their music. Indeed Little Message and Night Today appear as almost full-blown brass rock: while not abusing of them either, this remained quite tasteful and as powerful as when Atomic Rooster used the brass section. The lengthier (almost 7-mins) blues-rock USA is a real pleaser and the highlight of this side of wax, while the closer is a Foghat-like boogie-RnR track without much interest.
This debut album came out when the adjunction of heavy horn/brass arrangements was obviously the craze, but if JD's debut bows to that trend/fad, they do not succumb to it either: their brass section is made of guest musicians and are not part of the group. While hardly essential on a prog scale, JD's first album is a pleasant affair even if at times they could've been slightly more concise.
Since I knew the band for the first time (I just known it couple of months ago) I started to search the net and found very limited information about this band. The one I got from Wiki was about the organ player Tim Hinkley but not about Jody Grind. But from what I learn from the net this band was established at the end of 60s. Tim Hinkley was basically a session player for other musicians but nothing was specified in reasonable details about Jody Grind. If you have information about the band please do let me know. Thanks.
Excellent vintage music!
I am so curious about the band because I really love the vintage brass-rock music it delivers and reminds me to bands like Chase or Collosseum. The music is really something that I like. The opening track "One Step On" (18:47) is an epic comprising four parts : a. In My Mind, b. Nothing At All, c. Interaction, and Rolling Stones' d. Paint It Black. This epic really explores the guitar solo by Ivan Zagni who plays the solo wonderfully throughout almost first 8 minuets of the track. There are much of jazz and blues influence throughout the song. His guitar improvisation is really enjoyable and, in fact, captivating. The brass section augments the music nicely. Tim Hinkley's Hammond organ work is also great and another key attraction to the overall track and album!
"Little Message" (4:42) starts brilliantly with Hammond organ punch followed with brass-based music and high register notes vocal work. This is something like Chase, really. The guitar provides its stunning solo afterwards. It's so cool, so lively and so vintage! The organ returns back with dazzling sound backed with inventive bass lines. Oh man .. I like it! "Night Today" (5:04) is a jazzy tunes that moves the album in moderate to mellow tempo. It's another great composition which relies in the combination of vocal, guitar, brass section and organ. I imagine that the music is a blend of Chase and Dave Brubeck's band. The guitar solo really blows me away!
"U.S.A." (6:41) tones down the music a bit with a bluesy style but still using organ and guitar as major components of the music. The guitar exploration now centers around blues notes in a bit rocky singing style and it makes an excellent combination. As the title implies "Rock 'n' Roll Man" (4:31) is Jody Grind's interpretation of rock'n'roll which is delivered excellently. The singing style is excellent especially when it's combined with stunning guitar work.
Overall, this is a gem that you have to own the album if you really love vintage sounds. The key to the music is the guitar work and organ augmented with brass section. The guitar work blows me away. The vocal is also excellent. HIGHLY RECOMMENDED. Keep on proggin' ..!
Peace on earth and mercy mild - GW (i-Rock! Music Community) Reviews from P
rogarchives.com
Songs / Tracks Listing
1. One Step On (18:47)
- a. In My Mind
- b. Nothing At All
- c. Interaction
- d. Paint It Black
2. Little Message (4:42)
3. Night Today (5:04)
4. U.S.A. (6:41)
5. Rock 'n' Roll Man (4:31)
Total Time: 39:47
Line-up / Musicians
- Tim Hinkley / organ
- Ivan Zagni / guitar
- Barry Wilson / drums
- Louis Cenammo / bass (1d, 2 & 5)