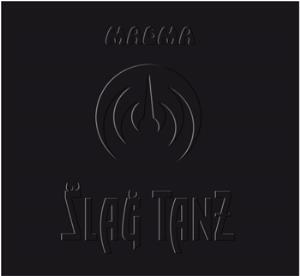 To my ears one of the best, if not the best of Magma ( Christian Vander) albums.This has all the Zeuhlistic trademarks - pulsating bass, massed vocal dexterity,intricate and powerfull drumwork, which reaches those frenzied heights only this band know how to do, and all melded together as one whole, which demands to be heard from start to finish. I love the shamanistic ritual vocal touches which is quite new with this band. Check out the awesome live video below!
A MUST HAVE for any any MAGMA fan! Only complaint is , i wished it were longer!!
SC&ME
There are several things that set this album apart from other Magma albums that I have heard. First and foremost is the amazing cymbal play of drummer extraordinaire, Christian Vander. Second is the way in which Magma have refined and mastered their delivery format for their stories from the world of Kobaia. And third is the way in which the long-time band members have mastered and refined their vocal instruments: Stella Vander, Isabelle Feuillebois and Herv' Aknin (and even Klaus Blasquiz, who does not appear on this album) are simply astounding. They are solid as rocks. They are so seasoned that it is hard to discern any flaws in their work. It must be so nice for band leader, Christian Vander, to have such companion/collaborators who seem so unwavering in their support and who are so dedicated to this form of music, to the vision of their band leader, as well as to the betterment of their own skills. While I have to admit that I find Slag Tanz slightly less engaging than Magma's previous recent studio releases, however, I find it hard to rate any modern recording of Magma's with anything less than five stars because the composition, performances, and recording/engineering is so consistently strong (even though many of the compositions were composed decades ago and have been performed live for years). It is my strong opinion that we music listeners are so very privileged to have the recordings and concert performances of an artist with such strong and independent vision who always composes and performs at the absolute highest levels every time (and, of course, demands the same of his collaborators).

This might be the single greatest piece of music that i've heard from MAGMA. According to Christian Vander it was written back in the seventies and played live in different forms since 2009. I'm such a big fan of not only dark and intense music like we have here but especially when contrasted with mellower passages. Now these more laid back sections often have this burning undercurrent to them but they also that lighter sound with female vocals at times. This is a 21 minute piece of seamless music divided into eight parts.
"Imehntosz-Alerte!" features Fender Rhodes, cymbals and bass early on as male vocals kick in. It settles back into a dark atmosphere as the male vocals return. Some tension here for sure as it blends into "Slag". The bass and vocals really impress here as it becomes fuller right away. It's picking up in tempo and in intensity a minute in. So good! Check out the insane vocals before 1 1/2 minutes as well as the killer drum work. It settles right down before 2 minutes as Fender Rhodes, drums, bass and female vocals lead the way. The insanity is back after 2 1/2 minutes but then it settles and blends into "Dumb" where female vocals and male vocals lead the way. They are burning it up with male vocals once again around a minute and check out the female vocal melodies that follow. Contrasts continue then a calm follows as bass and drums take the spotlight. It turns extreme again.
"Vers La Nuit" is led by female vocal melodies, bass and drums then the male vocals arrive as they trade off before both join in together as it turns fierce late. "Dumblae-Le Silence Des Mondes" settles to start with male vocals before it builds with male and female vocals. Check it out at 2 1/2 minutes! That female voice that cries out and the bass in that doom-like atmosphere. Incredible! "Zu Zain!" sounds amazing with the bass from Bussonnet that is just grooving and Vander's random drum patterns. Female vocals arrive around 1 1/2 minutes. "Slag Tanz" is beyond profound in my world with those intense vocals along with the Fender Rhodes, bass and drums. Simply killer! It settles late and it feels right that this EP should end here but then we get "Wohl Dunt" which is almost dirge-like with piano and Christian's slow vocals as it gives us a chance to figure out what the hell just happened.
I wasn't that impressed with the previous EP by MAGMA but man they have blown me away with this one.
Alright, here's the one all the Magma fans have been waiting for for quite some time now, and the question is, has the wait been justified? They've been playing this piece live since around 2009, and it has slowly morphed into the piece it is today. Bits have been chopped off, bits have been added, and does it work? Well for me, the answer to that is a resounding "yes". On my initial hearing, I didn't quite know what to make of it. It was certainly different than the live versions I had heard, it seemed to be lacking the sheer metal brutality of its live predecessor on Epok V, and I took this to be a weakness. Yet, there was still something in there that brought me back to it. After many listens, my ears have definitely warmed up to the sound of it, it is definitely less raw and metallic than the live version, but it is just as effective. This piece is very dense and episodic, alternating flawlessly between dark and heavy to angelic beauty. In other words, the piece is constantly moving itself forward, there is very little downtime; boring is the last word one could use to describe it. What it may lack in brutality, it makes up for with intensity and power. What I find most striking about this piece is its genius use of it's main, pulsating 5/4 bass riff (sort of like De Futura). The riff is present throughout nearly the entire piece, and yet it morphs to fit the mood of whichever section of the piece it's in. This riff lies under both heavy, dark passages as well as the light, melodic ones, and I believe this is where the genius of this piece lies; the ability to take this single riff, and flesh it out into a beautiful and powerful 20 minute piece. This is the very definition of fully fleshing out a single idea. Yes, I did say only 20 minutes, but the quality totally exceeds the quanitity. Vander's been working on this piece for years, he wouldn't release it as an unfinished work, he doesn't seem to be the one to take short cuts. Highly recommended.
Reviews from Progarchives.com
Songs / Tracks Listing
1. Imëhntösz - Alerte ! (2:19)
2. Slag (3:03)
3. Dümb (2:57)
4. Vers la nuit (3:30)
5. Dümblaë - Le silence des mondes (2:58)
6. Zü Zaïn ! (2:16)
7. Slaǧ Tanƶ (2:29)
8. Wohldünt (1:23)

Total Time: 20:55
Line-up / Musicians
- Stella Vander / vocals
- Isabelle Feuillebois / vocals
- Hervé Aknin / vocals
- Benoit Alziary / vibraphone
- James Mac Gaw / guitar
- Jérémie Ternoy / piano, Fender Rhodes
- Philippe Bussonnet / bass guitar
- Christian Vander / drums, piano, vocals