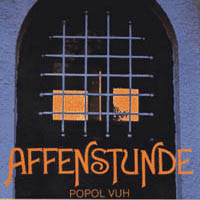 Affenstunde happens to be my favorite Popol Vuh album, and one of only two Popol Vuh albums that I actually enjoy. The music on this album is mostly experimental electronic music and it is absolutely breathtaking. The experimental moog sounds that engulf your speakers during this album really draw me in and take me on a spacial journey within myself.
The first track is mostly void of anything percussive, and the only thing in the whole world that I notice besides the endless beeping droning is my own heartbeat. "Dream Pt. 5" is remarkably more percussive, almost sounding authentically African or Indian, but without any of the tell-tale signs to affirm this connection. The hypnotic percussion takes you on a separate journey that seems to be on a completely opposite side of reality than the first, much more electronic dominated first track. "Dream Pt. 49" is made up of pleasant single notes that fade in and out of the mix, creating quite a dreamy and nightmarish atmosphere. Soon enters more single note drones that fade in and out with almost perfect syncopation with the original drones. Every time I listen to this track, a single sentence occasionally floats through my head that I feel fits the cinematic vibe here: "I'm waiting for a bus in the rain, but I'll probably be murdered before I make it home". I'm fairly certain that this wasn't the atmosphere that Fricke had hoped for in his fans, but that is something I can't control. The epic title track is a healthy amalgamation of all elements present throughout this album: tribal percussion, steady electronic drone, some beeps/boops, and some experimental electronic melodic-properties. The first few minutes are dominated by the tribal drums, but eventually give way to a pleasant done with electronic echoes possibly made by ghosts. The percussion soon enters again in a more steady fashion while the electronics play their whimsical melodies across the soundscape.
This is one of the first krautrock/electronic albums I had ever heard, and it remains one of my favorites. I would have to highly recommend this masterpiece to anyone in need of an introduction to electronic-dominated krautrock, as it did wonders for me in that area. I'm not one for soul searching in any kind of spiritual manner, but this album just kind of has that effect on you.
This is the beginning of one of the big names of the Krautrock movement. This is one album you can't go by from their better-known piano-dominated albums like Hosianna Mantra" and those following. Instead this dates back when Florian Fricke had little problems messing around with synthesizers, and this, their debut, proves. This album was originally released on Liberty Records. The album features two side-length cuts, the first being "Ich Mache Einen Spiegel". It starts off with lots of strange computerized sounds and strange droning sounds. Then you go in to percussion overdrive, before the "music" (if you want to call it that) mellows out with simply droning sounds. Then you have the title track which is full of sounds of traffic before it's taken over by even more droning sounds, only this time, the percussion kicks in and Florian Fricke starts messing about with some cheesy sounds off his Moog (making it almost sound like computer video games against a droning background, even if video games were unheard of when "Affenstunde" came out).
The back cover features pictures of hippies playing along (in reality, Florian Fricke playing his Moog, as well as Frank Fiedler, and non-member, but producer Bettina Fricke on percussion - by the way I'm not certain how Bettina is related to Florian). Bettina Fricke looks most like the stereotypical hippie complete with headband and flowery clothing (she looks like an escapee of San Francisco's Haight-Ashbury scene). Often this album gets compared to early TAANGERINE DREAM, which like what they have done, little, if anything, features any sort of melody or tune, just lots of atonal experiments (and of course bringing up TANGERINE DREAM only makes since since in 1972, Florian Fricke did guest on "Zeit"). If you're familiar with only POPOL VUH's piano-dominated stuff, post- 1972, be utterly shocked with "Affenstunde". I only wished Florian kept on using synthesizers, he only used them one more time on "In den Gärten Pharaos" before his religious conversion (to Christianity and Hinduism) strangely compelled him to suddenly hate synthesizers and turn to the piano (although be aware that parts of "Aguirre" dates back to the "In den Gärten Pharaos" sessions). As for "Affenstunde", love it or hate it, but if you like off the wall experimental electronic music, you're certain to like this. Reviews from
progarchives.com
Songs / Tracks Listing
1. Ich mache einen Spiegel: (21:05)
...1) Dream part 4 - 8:40
...2) Dream part 5 - 4:50
...3) Dream part 49 - 7:35
2. Affenstunde (18:57)
Line-up / Musicians -
Florian Fricke / Moog synthesizer
- Bettina / cover design, tablas
- Frank Fiedler / synthesizers, mixdown
- Holger Trülzsch / percussion