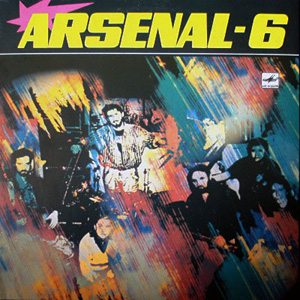 Excellent russian jazz fusion album. This and Arsenal 5 (also 'Created withThere Own Hands' ) are the best three more accessible albums i have yet heard from this band. A fine mix of jazz fusion which at times reminds me of some of Klaus Doldingers Passport and just as inventive if at times jazzier. The track 'Yellow Sky' is a stunner with its ambience and oriental style flourishes.
ARSENAL, pioneers of jazz-rock in the Soviet Union, is a creature of Alexey (often spelled like Alexei) Kozlov (b. 1935), professional architect and self-taught saxophonist and composer. He played jazz since the 50s, had deep knowledge of its different styles, was a member of numerous bands, participated in jazz festivals in the USSR and abroad (Poland, Czechoslovakia, Hungary) and up to the 70s he had a good reputation in jazz circles. But as open-minded musician he was (and still is) always interested in different music styles. Listening to the music of bands like CHICAGO, MAHAVISHNU ORCHESTRA, BLOOD, SWEET AND TEARS, PINK FLOYD, KING CRIMSON, ELP and others gave him the idea to go in new direction and form a band, capable of playing the fusion of these styles.

According to Alexey Kozlov, he wanted to create a band of virtuosi, who can swing, improvise, have the "feel of the blues" and appreciate different music styles. It was not so easy to find musicians for new band. Most of experienced jazzmen were skeptical about rock and did not consider it serious music. Rock music in the Soviet Union was then in embryonic state and almost totally in underground, even the word "rock" was associated with hostile Western influences. Official equivalent of rock music existed in the form of so-called vocal-instrumental ensembles - professional groups, singing "songs of Soviet composers", without any rebellious spirit, specific to rock. Underground rock musicians were enthusiastic, but they were not able to play complex pieces, many of them even could not read music. The solution came mainly in the face of young Moscow Conservatory and Gnesin's Institute students, whose interests were not restricted by classical music only.

The band was called ARSENAL (there is a play of words - "ars" means "art" in Latin - and, additionally, it was in some way inspired by famous British football team). First ARSENAL rehearsal took place on November, 12, 1973. Initial line-up consisted of 4 singers and brass section, standard rock instruments were used as well. The band began to perform excerpts from Webber - Rice rock-opera "Jesus Christ Superstar", compositions of CHICAGO, BLOOD, SWEET AND TEARS, TOWER OF POWER and music written by Alexey Kozlov - and, obviously, became in the underground. Some records of that era were published only in 2005 on "Underground Arsenal" CD. Ensemble gave occasional concerts (without being paid for them, because it was against the law to get money for gigs if artists are not working in some official concert organization) and intensively rehearsed. Band members combined music with their "main" jobs and studies then.

Situation changed only in 1976, when Kaliningrad Philharmonic invited ARSENAL to constant job and the band became professional even from the official point of view. Ensemble extensively tours different towns and cities of the Soviet Union, takes part in some festivals at home and in East Europe, but is always under pressure of ideological machine - ARSENAL was not allowed to play concerts in Moscow until 1980, the first album, "Arsenal" (aka "Dangerous Game"), recorded in 1977, was published only in 1979.

ARSENAL music during its long career came through various stylistic changes. From Progarchives.com
Songs / Tracks Listing Side 1
1. Сильвер-блюз / Silver Blues (8:01)
2. Жёлтое небо / Yellow Sky (5:50
3. Незнакомка / She Is A Stranger (6:05)
Side 2
4. Зависть / Envy (11:50)
5. Мир тесен / It's A Small World (8:58)
Line-up / Musicians
- Alexey Kozlov / alto and soprano saxophones, keyboards
- Ivan Smirnov / guitar
- Andrei Denisov / keyboards
- Alexander Pishikov / tenor saxophone, flute
- Anatoli Kulikov / bass
- Igor Djavad-zade / drums
- Valeri Demin / percussion