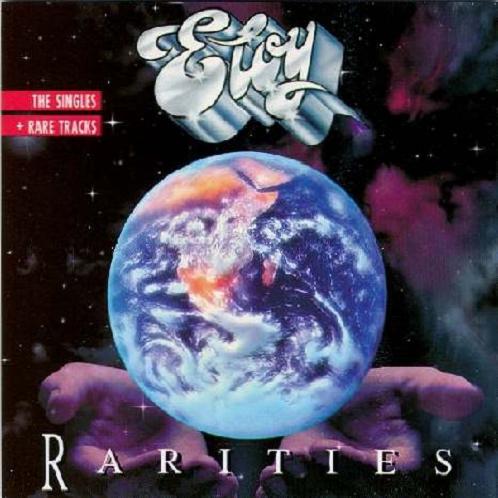 This is a very nice compilation of Eloy tracks, but is not altogether as the title may suggest. Most of the songs already being available on various albums. We do however have one or two little gems in here not to be found elsewhere, most notably the song "Let the Sun Rise in Your Brain" which is in typical Eloy space rock mode with some excellent flute breaks in Jethro Tull vein. There's also a different version of ' Child Migration" and a longer version of " Wings Of Vision " and also has some single versions of other well known songs.
Rarities is more for the Eloy completist, but is nevertheless an excellent compilation in itself by germany's premier space-rock outfit!
SC&ME
Good compilation of Eloy tracks here, ranging from 1973 to 1984. But Rarities may be a little daring as a title; in fact, only 60 % of the record is rare. So I will focus on these novelties.
The first half of the disc is hardly composed of A and B sides that cannot be found on official albums/lives. It opens energically with the psychedelic hard rock instrumental Daybreak, carved in the same stone than Floating. On the Road sounds very Deep Purple-ish with its omnipresent organ and is very catchy. The best rarity here is the cosmic mini-epic Child Migration (different and as less as good as the track of the same name from Colours). The song begins trippy synthetizer to go on with high-pitched vocals and powerful guitars, definitely worth the trip. The calms reappears with Let the Sun Rise in Your Brain, relaxing musical piece featuring beautiful flute playing. On the contrary, Wings of Vision is not much welcomed in this compilation it is a little bit cheesy.
The second half of the compilation is merely composed of top tracks taken from Eloy's classic 80s albums (Colours, Planets, Time to Turn and Metromania), with the lengthy version of Wings of Vision.
Not the best place to start with Eloy, but surely a good investment for Eloy and space rock fans.
"Eloy" didn't release any new studio album between 1988 and 1992. It was maybe the kick for their label to release these "Rarities".
Several songs do have an historical interest but not more. It is the case of "Daybreak" as well as "On The Road". Good old "Eloy" songs. Fully psychedelic. Both were released on the remastered version of their debut album. The most interesting is "Let the Sun Rise in Your Brain". It is one of their few (if not only) "Tull" oriented songs. This flavour is provided with a good fluting break. IMO, it is one the best number from this complilation.
I also lilke very much "Through a Somber Galaxy". The great guitar solo is fully Floydian and it was one of the very few good songs from "Time to Turn". This version has been edited slightly (almost one minute). There are two additional songs from this abum as well but they are really painful : "Wings of Vision" and the title track "Time to Turn" (even featured twice here)! These single (or extended version) won't do any good.
Their album "Colours" which I didn't really appreciate will provide the core of this album. Four numbers actually : "Child Migration ", "Horizons", "Silhouette", and "Sunset" which was one of my fave from this average album.
This collection of songs is by no means of deep interest. Just a couple really deserves any attention. Two starsReviews from
Progarchives.com
Songs / Tracks Listing

1. Daybreak (3:39)
3. Child Migration (4:03)
4. Let the Sun Rise in Your Brain (3:28)
7. Wings of Vision (3:50)
10. Through a Somber Galaxy - 5:16
12. Wings of Vision (12'' version) (4:14)