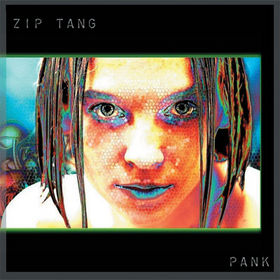 The band's second effort 'Pank' is a really entertaining album filled with a cornucopia of impressions. Automatically searching for something comparable more or less Umphrey's McGee come into my mind when listening. First of all because of the fact that most of the songs are provided with a touch of jamming too. Deitrich Crashed My Enzo is a good example here. Basically a catchy song coupled with melody and rhythm variations - on top of it provided with a grooving jam section showing references to southern rock bands like The Allman Brothers Band as well as psychedelic patches. An exciting compilation of styles so to say.
The song title is weird though - probably they mean this sports car named Enzo Ferrari. And who is 'Deitrich'? In Germany we have a forename 'Dietrich'. A pun or lapse? Something which temporarily engaged me. Anyhow - they obviously operate with some kind of humour - best to point out with You Call This Art which starts (and ends) with laughing people. And the closing song Goodbye is their individual way to say farewell to the listener provided with marching drums and a pop styled mood reminiscent to The Beatles I would say.
However - jazzy portions are coming through all over, for example to recognize on Footprints - the drums and piano especially here. Marcus Padgett has a large share with his saxophone. He opens and closes the melancholic ballad One Last Beautiful Motion with a cool substantial contribution, an harmonic song with polyphonic vocals and floydy guitars. It's In My Head is an unusual blend of fusion and heavy psych and takes getting used to.
A punching bass line sends Katy to a heavy rocking and blues direction - but not that simple - a little bit avantgarde tinged which comes from some interesting saxophone dues once more. In a similar manner the album's title song is Zappa influenced. Cicada Jam irritates spiked with electronical experiments where the drums are perfectly imitating a train ride as for my impression. And finally I want to mention The Years dominated by duelling saxophone and guitar.
Some may come to the conclusion that this album is full of quite different music portions merged together by accident - quasi missing the 'golden thread'. Okay, if it is in that way - it's well done anyhow. ZIP TANG succeed to produce a varied output in any case and excellent musicianship is beyond dispute. Prog fans who like to listen to an eclectic mix of styles should take care of this - and won't regret.
ZIP TANG Pank music reviews and MP3
Songs / Tracks Listing
1. Footprints (4:22)
2. It's In My Head (8:25)
3. Katy (8:19)
4. Leaving Nothing (4:45)
5. Cicada Jam (3:27)
6. One Last Beautiful Motion (7:14)
7. Pank (3:48)
8. Deitrich Crashed My Enzo (7:25)
9. The Years (4:50)
10. You Call This Art (4:41)
11. Goodbye (6:28)

Total Time 63:42
Line-up / Musicians - Fred Faller / drums
- Perry Merritt / guitars, vocals
- Marcus Padgett / saxophone, keyboards, vocals
- Rick Wolfe / bass, vocals
Zip Tang - Footprints
Pank
Zip Tang - "Goodbye" - at House Of Blues