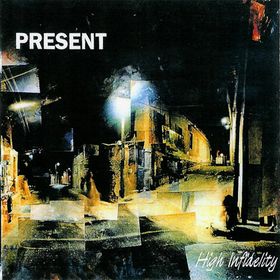 This fifth studio album (the third since their reformation) sees Present progress yet some more in the complex RIO and Zeuhl world, that they are building with every album of theirs. The groups is now in an extended form with with a sring and brass section, but is most are presented as full members, the main quartet of Trigaux (father and son), Chevalier and drummer Dave Kerman is still the heart and soul of the band. Macksoud , the bassist is a regular with band today. A rather bizarre sombre almost underground artwork (a collage of Israeli or Palestinian streets night scene) certainly sets the sombre mood of the album, but the album is not really any darker than the previous ones.
From the opening six-parts suite Soul For Sale (27 min+) with its insane and oppressive groove on which both father and son pull some searing guitar lines that even Fripp would love to have written, is constantly shifting and twisting almost uncontrollably sometimes reminding you Magma. The brass section adds more than a bit of variety in the soloing, and certainly is used for full drama as underlining the constant tension.
The two-parts 11 minutes Strychnine For Christmas (under-titled The Truth About Santa Claus) penned by Pierre Chevalier, is softly underscored by a rare Mellotron behind a rather distant Crimson influence, but the vocals are certainly perfectible (English lyrics and vocals from Kerman). Third and last track, written by Trigaux, is the Rêve De Fer (Iron dream) , but it has not metallic intention, but finishes as a tribute to a well known theme (get the album to unveil the suspense ;-) with Belew-Fripp interplay.
Yet another stunning work (if a little repetitive) from the Trigaux gang, this album has been released ion the small Belgian Carbon 7 label (who handles also Aka Moon), and it is one of the better moments in Present's career. The group has for manager ex-bassist Guy Segers, now. Not groundbreaking anymore, this is yet another typical Present album, even if they keep on progressing musically. ( review from progarchives.com )

Songs / Tracks Listing

1. Souls For Sale (1) 3:16
2. Souls For Sale (2) 3:26
3. Souls For Sale (3) 3:41
4. Souls For Sale (4) 5:29
5. Souls For Sale (5) 4:57
6. Souls For Sale (6) 6:47
7. Strychnine For Christmas (1) 3:57
8. Strychnine For Christmas (2) 7:00
9. Reve De Fer 9:23

Total Time: 47:56


Line-up / Musicians

- Roger Trigaux / guitar, vocal
- Reginald Trigaux / guitar, vocal
- Pierre Chevalier / piano, keyboards, organ, mellotron, vocal
- Dave Kerman / drums, percussion, vocal
- Keith Macksoud / bass
- Matthieu Safatly / cello, vocal
- Fred Becker / alto & tenor sax
- Dominic Ntoumos / trumpet, flugelhorn
- Udi Koomran / sound

Guest musicians:
- Yuval Mesner / cello
- Meidad Zaharia / accordion
Present - Strychnine For Christmas