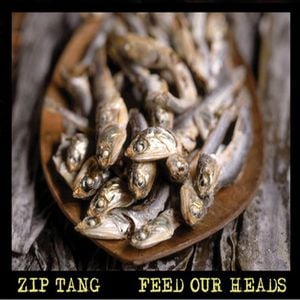 This is the third and the most recent album by a band which surely is now among the better US eclectic prog bands.
The album starts innocently enough with the jazz, saxophone and Frank Zappa influenced pastisj I'm On My Own. A really great song. From there and out, the album branches out in all direction. None of them light hearted and easy accessible. This is by no means an easy listening album. This album touches base with a lot of genres. From avant-garde via eclectic prog to jazz and pop/rock. Along the way, Zip Tang says hello to The Beatles, Beach Boys, Mahavishnu Orchestra, Frank Zappa, Soft Machine (first album), Red Hot Chili Peppers, Gentle Giant, Pink Floyd and the post rock scene. I am sure I have missed out on a lot of bus stops along the way. But although very varied, the music is never disjointed. There is a clear and defined idea running through the whole album.
The instrumentation is both the usual tangents, guitars, bass, vocals and drums. But they have also added some woodwinds to the sound. The sound changes between electric and half-acoustic. The instruments are clearly spaced out and not the victim of a wall of sound. Thankfully, the sound quality is superbly crystal clear and contemporary.
I stated the first song was an uplifting song. The mood changes though halfway the album and the mood becomes darker at the final two Pink Floyd like songs. Which means neither the first song or the final two songs should determine if you want to part with your money on this album.
A purchase or not also depends on the quality of the product. It is my opinion after sweating blood during ten listening sessions, and wishing that I could spend even more time on this album before reviewing it, that this is a true great album. There is no real killer tracks here. Neither is there any really uninteresting parts here either. This album has so many twists and turns that it drags the listener in and really keeps him/her until the final tone. This is truly a progressive rock album. That is in my view a good enough reason to give it four stars...... although not a strong four stars, but still four stars. ( Review from progarchives.com)


Songs / Tracks Listing
1. I'm On My Own (4:43)
2. Fine Reds (7:28)
3. Enough About You (7:50)
4. I Found A Dream (4:49)
5. Girl Behind The Glass (2:14)
6. Lost Without You (3:30)
7. I'll Put It Right (3:19)
8. Ojai (5:55)
9. Central Park (3:20)
10. Spooky Jam (5:34)

Total Time: 48:42

Line-up / Musicians
- Fred Faller / drums, percussion
- Perry Merritt / guitars, backing vocals
- Marcus Padgett / lead vocals, keys, woodwind
- Rick Wolfe / bass, mandolin, backing vocals

guest musicians:
- Ea Phillipa / lead & backing vocals
- Dave Jelinek / trumpet


Zip Tang - "Central Park"
Zip Tang - "Spooky Jam"