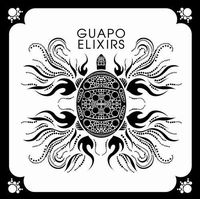 After two amazing albums "Five Suns" and "Black Oni", both of them virtually impossible to beat or equal, Guapo kept evolving and creating great avant-prog music, which ultimately was delivered in their 2008's album "Elixirs". With a permanent guitar player and a new bassist on board, Guapo now reveals itself as an ensemble decided to explore predominantly subtle atmospheres and deceitfully relaxed. The post-rock element had been a nuance in "Black Oni", but in "Elixirs" it has become a relevant presence in the band's refurbished sound. This is still genuinely zheul, but clearly with a more elaborate work of grayish textures, not only based on a bigger influence from the post-rock standard, but also Arabic/North African-inspired exotic sonorities. This less explosive approach to Guapo's archetypical exploration of neurotic, dark, disturbing sonic displays helps the band to focus on the mysterious side of their music with an enhanced fruition. This is pretty obvious from the opening track 'Jeweled Turtle', whose initial languid mood feels powerfully focused on the drumming's ritualistic cadence, making it sound like a procession of lost ghosts. The guest violin and viola gradually take center stage until things become patently dramatic, especially during the second half - the additional Arabic undertones reinforce the black magic aura instilled in the track's nucleus. Track 2 'Arthur, Elsie and France' is more vital, set on a jazz-rock scheme for a Magma-meets-Present excursion in which organic tension and cacophony alternate fluidly. The keyboard and bass inputs remind us closely to Guapo's previous albums, but Smith's drumming bears enough versatility and subtlety as to keep things reasonably constrained (yet still explosive). Tracks 3 and 4 are parts of a concept titled 'Twisted Stems', both being sung tracks: 'The Heliotrope' has a slow, relaxing acid-jazz mood that evokes a modernized Robert Wyatt, while 'The Selenotrope' is slightly more oppressive, with a bit of sensuality (something like Portishead-meets-Sigur Rós). 'The Planks' is the briefest and most upbeat piece in the album: with its very ethnic main motif, the band manages to bring an optimistic, catchy vibe without giving up on their penchant for mysterious atmospheres and experimental ideas. The last 15 minutes are occupied by 'King Lindrom', which gets started with a psychedelic deconstruction of Far East moods (I am inclined to notice the legacy of "Ummagumma"-era Pink Floyd and early Amon Duul on this one). Once the electric piano sets the initial cadences for the center section, it won't be long before the whole band displays yet another example of zheul/post-rock tension. Right before minute 8, a new motif arrives to increase and release a sonic power that until now had remained partially latent. The rhythm duo's jazz-inspired labor and the creepy guitar lead deserve special mentions. At minute 11 ½, things return to calmer moods in order to set the pace for the coda (a reprise of the introductory section). While not equaling the electrifying fire of "Five Suns" or the special witchcraft of "Black Oni", "Elixirs" still represents the excellence of Guapo's musical vision - this is likely to become a very featured album in prog circles for the year 2008.

GUAPO Elixirs music reviews and MP3

( Review from Progarchives.com)

Songs / Tracks Listing

1. Jeweled Turtle (13:09)

2. Arthur, Elsie And Frances (10:53)

3. Twisted Stems: The Heliotrope (7:32)

4. Twisted Stems: The Selenotrope (7:45)

5. The Planks (3:11)

6. King Lindorm (15:40)

Total Time 58:10

Line-up / Musicians

- Daniel O'Sullivan / Fender Rhodes, piano, bass, guitars, harmonium, modular synthesisers, autoharp, voice, electronics
- David J.Smith / drum kit, percussion

Guest musicians:
- Sarah Hubrich / Violin, Viola (The Jewelled Turtle)
- Alexander Tucker / Voices (The Heliotrope)
- Jarboe / Voices (The Selenetrope)



GUAPO "Arthur, Elsie and Frances"
Guapo - Jeweled Turtle
Download mp3