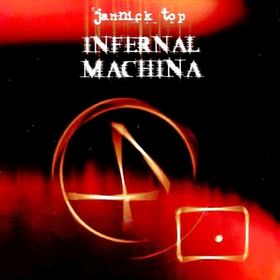 The legendary "Magma" bassman returns with an album of epic proportions.

Split into 12 parts this is pretty powerfull and dense stuff. One immediately thinks of some "Dead Can Dance" especially with the female vocals , in fact a good proportion of the album has a very similar sound and style crossed with say, the experimentalism of "Shub Niggurath", pounding and pulsing with mediaevil and far eastern flourishes awash in a mire of zeuhl and on occasion metal guitars are thrown into the mix.

Parts V and VI has that infectious "J Top" bass line from "Udu Wudu's" "De Futura" rumbling along with blasts of fuzzed guitars and throaty vocals which gradually picks up speed and nails you by the ears and tosses you into it's maelstrom of pure insanity.Stunning tracks these two and my favourites on the album which are more of a Janik Top showcase and definitely pure ZEUHL.

Elsewhere you will find some "Magma" themes from "MDK" etc.

For ZEUHL fans INDESPENSABLE!!

Download
Songs / Tracks Listing 1. Part I (7:24)
2. Part II (4:29)
3. Part III (4:12)
4. Part IV (4:15)
5. Part V (5:09)
6. Part VI (5:52)
7. Part VII (4:22)
8. Part VIII (3:49)
9. Part IX (4:42)
10. Part X (3:13)
11. Part XI (4:27)
12. Resolutio (5:36)
Total Time 55:30
Line-up / Musicians
- Jannick Top / bass, cello, cellobass, percussion, voices
- Christian Vander / drums
- Damien Schmitt / drums
- Marc Chantereau / percussion
- James McGaw / guitar
- François Delfin / guitar
- Thibault Abrial / guitar
- Jim Grandcamp / guitar
- Fabien Colella / keyboards, computing
- Mathias Lecomte / grand piano
- Klaus Blasquiz / voice
- Natalia Ermilova / voice
- Veronika Boulytcheva / voice
- Stella Vander / backing vocals
- Himiko Paganotti / backing vocals
- Antoine Paganotti / backing vocals