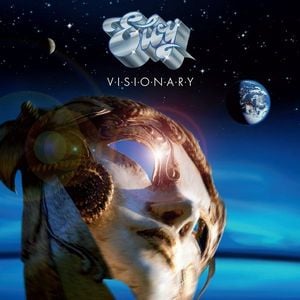 The latest album in a decade by "Eloy" sees them retreading the same sounds as on previous albums.
The opener "The Refuge" could almost be a track from there "Metromania" album with a more hard edged metal / rock type sound.
Elsewhere there's plenty of trademark bass lines from " Matziol" but far less in the spacey keyboards and guitars which the earlier albums had in abundance and unfortunately as with all there recent albums the vocals are not so good with too many repetetive moments and less inventive progressiveness for my tastes.
Not a bad album but far removed from the classic "Eloy" of old as we know and love.
Download
Songs / Tracks Listing
1. The Refuge (4:54)
2. The Secret (7:45)
3. Age of Insanity (7:56)
4. The Challenge (Time to Turn, Part 2) (6:44)
5. Summernight Symphony (4:22)
6. Mystery (The Secret, Part 2) (9:00)
7. Thoughts (1:22)

Total Time 42:03

Line-up / Musicians
- Frank Bornemann / lead and backing vocals, acoustic & electric guitars
- Klaus-Peter Matziol / bass
- Michael Gerlach / keyboards
- Bodo Schopf / drums, percussion
- Hannes Folberth / additional keyboards (2, 3, 4 & 6)

ELOY 2009 - Age of Insanity (HQ) - Song 3 of 7

Download mp3