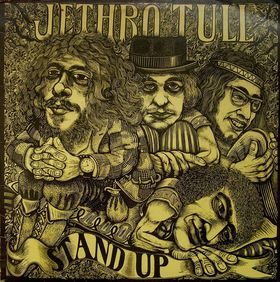 Tull had just parted ways with guitarist Mick Abrahams after their first album "This Was' (Abrahams went on to make a really good blues album "Ahead Rings Out" with Blodwyn Pig, by the way), and had chosen Martin Barre as the their new lead guitarist. Tull took a u-turn off the blues highway and went off-road and did some camping on this stunning folk-rock opus. More so than the more standard rock follow-up album "Benefit", "Stand Up" is the true precursor to Tull's "High Prog" era. Everything is there, except, of course, 42 minutes of continuous music. But too much of one thing is not good (see "Passion Play" released on the heels of "Thick as a Brick"). This release is about as startling a change from a debut album to a second album as you will ever hear.
I have long been of the thought that no one in rock really writes beautiful, reflective tunes anymore. Ian Anderson can turn them out by the bucketful but still rock on the same album. 'Look Into the Sun', 'Reasons for Waiting' and 'For a Thousand Mothers' are just beautifully rendered, mellow pieces; conversely, 'Nothing is Easy' (a personal favorite), 'A New Day Yesterday' and 'We Used to Know' rock along quite well. Top it off with what Anderson refers to as cocktail jazz 'Bouree', and the frenetic 'Fat Man' (another favorite), and one finds the direction Tull took was an important step in becoming one of the greatest prog-rock bands of all time. Or folk-rock band. Or concept band. You get the general idea -- if you get Tull.
Beyond the act of turning out excellent compositions, 'Stand Up' is an important album in the synthesis of several different musical elements and genres into the rock idiom: jazz, blues, classical, folk. "A New Day Yesterday" is heavy blues on the level of Zeppelin and Cream, "Nothing Is Easy" is jazzier blues (retaining the rock with a thunderous coda to finish), "Fatman" has both Celtic and Indian strains running through it, "Bouree" is classical Bach with a jazz twist, and "Reasons for Waiting" is the first instance of collaborator David 'Dee' Palmer adding strings to a Tull tune (and lovely they are). Name any other rock bands that have the artistic grasp to successfully fuse these disparate genres all into one recording. Take your time. Get back to me when you can come up with a few.
In conclusion, I would highly suggest getting the 2010 Deluxe Edition remaster, which also includes the rousing orchestral "Sweet Dream", the only rock hit in 5/4 time "Living in the Past", and an excellent recording of the wild and wooly 1970 Carnegie Hall concert of which only a snippet appeared on the 1973 compilation album "Living in the Past
PLAYLIST LINK
Songs / Tracks Listing
1. A New Day Yesterday (4:10)
2. Jeffrey Goes To Leicester Square (2:12)
3. Bourée (3:47)
4. Back To The Family (3:48)
5. Look Into The Sun (4:21)
6. Nothing Is Easy (4:26)
7. Fat Man (2:52)
8. We Used To Know (4:00)
9. Reasons For Waiting (4:06)
10. For A Thousand Mothers (4:13)
Line-up / Musicians
- Ian Anderson / flute,acoustic guitar, Hammond organ, piano, mandolin, balalaika, bouzouki, mouth organ, vocals
- Martin Barre / electric guitar, flute on "Jeffrey Goes To Leicester Square" and "Reasons For Waiting"
- Clive Bunker / drums, percussion
- Glenn Cornick / bass