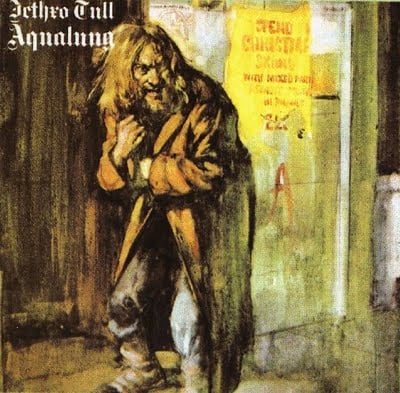 It's a concept album without narrative conceit, a classic rock album with many layers of philosophical depth. Dirty urban imagery and ancient pastoral glimpses, blues-rock grit and folk whimsy, bitter social critique and tender domestic odes; so many contradictions and yet such a complete and seamless, almost effortless musical execution. If JETHRO TULL hadn't recorded any other albums afterwards, this album could have easily been seen as a fitting culmination; luckily for us, that wasn't the case, but even on its own merits, "Aqualung" is a fully realized, flawless experience.
Maybe decades of rock refinement have colored my impressions, but every time I listen to this album I'm struck with how uniquely they aproached composition. For instance, you can count on one hand the number of times Clive Bunker uses anything like a standard rock rhythm, and the typical verse/ chorus/ bridge structure is always subtly subverted. Even when Martin Barre plays identifiable blues- rock leads, it's barely resembles anything Hendrix or the Yardbirds alumni brought to the musical table. Anderson's vision and energy motivates the tracks; this is not meandering experimentation, this is a thoroughly developed and immediate sound.
I'm pretty stingy with the five stars, even when I'm totally in love with an album. "Aqualung" deserves every bit of the masterpiece rating, achieving accesibility without sacrificing an inch of originality or musicianship. Though other JETHRO TULL albums may be personal favorites, this one is a unique and thoroughly well-developed statement without a millisecond of wasted space or unneccesary embellishment. The hard edge was as heavy as anything in music at the time, but the range is far wider than that; the beautiful, reflective pastoral qualities and insightful social criticism are but the most obvious indications of the band's flexibility. Between the ragged immediacy of the preceding releases and the more polished and deliberate recordings that followed, "Aqualung" is the perfect balance.
PLAYLIST LINK
Songs / Tracks Listing
1. Aqualung (6:31)
2. Cross-Eyed Mary (4:09)
3. Cheap Day Return (1:23)
4. Mother Goose (3:52)
5. Wond'ring Aloud (1:56)
6. Up To Me (3:18)
7. My God (7:10)
8. Hymn 43 (3:18)
9. Slipstream (1:13)
10. Locomotive Breath (4:
25)
11. Wind-Up (5:42)