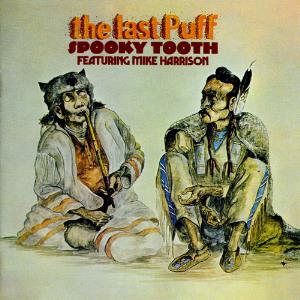 The Last Puff is Spooky Tooth's fourth album and the last one before a break for three years. This album was recorded while the band had already fallen a part, containing only three original Spooky members: Mike Harrison on vocals, Luther Grosvenor at the guitars and Mike Kelly on drums. The band was completed by the addition of members of Joe Cocker's band and no one should be surprised that this album became Spooky Tooth's most soul-orientated album. This record mainly consists of cover songs like "I am the Walrus" from the Beatles; "Something to say" from Joe Cocker and "Son of your Father" from Elton John. Although the band was breathing out it's last breath (or puff) and the artists mentioned will not excite all members on PA, this record is actually pretty good, especially when considering the circumstances during it's production.
I'm not too fond of Beatle covers (read my Vanilla Fudge's debut review), but this version of "I am the Walrus" of Spooky Tooth I find mindblowing. The minimalistic psychedelic hardrock approach during the verses combined with the outstanding soul vocals of Mike Harrison gives me the thrills. The instrumental acid rock parts in addition makes this in my opinion the best cover ever (even better then Voivod's Astronomy Divine cover). This cover is a masterpiece and may be the best song ever recorded by Spooky Tooth.
"The Wrong Time" which is a song written by Gary Wright who had left Spooky Tooth before this recording is the second best song on the record and only original Spooky Tooth song. This song shows the artistic approach of Spooky Tooth's earlier efforts, which is the reason Spooky Tooth was added on PA. A great soul song with nice percussion. All the other songs are more or less pure soul songs. Spooky Tooth as a band however was far more skilled then Joe Cocker's band and the vocals of Mike Harrison are shining throughout this record.
This record is advised for music lovers with a positive attitude towards soul music. Spooky Tooth's version of "I am the Walrus" is advised for everyone and this record is discommended for prog purists. Like prog reviewer Chicapah has mentioned the first side of the record is the better one - containing the two best songs of the record. I do like the second side too and cannot find a weak song on this album. First side: 4+ stars/ second side: 3,5 stars. Review from
Progarchives.com
Songs / Tracks Listing
1. I Am The Walrus (6:20)
2. The Wrong Time (5:40)
3. Something To Say (6:05)
4. Nobody There At All (4:00)
5. Down River (5:10)
6. Son Of Your Father (3:32)
7. The Last Puff (3:30)


Total time 34:17
Line-up / Musicians
- Luther Grosvenor / guitar
- Mike Harrison / keyboards, vocals
- Henry McCullough / guitar
- Alan Spenner / bass
- Mike Kellie / drums
- Chris Stainton / organ, guitar, piano, bass, keyboards, producer