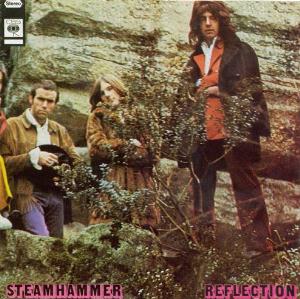 Steamhammer's debut is clearly entrenched into the second wave of British Blues Boom along with TYA , Savoy Brown , PG's Fleetwood Mac and others. However , this album has enough progressive overtones to indicate that the next albums will be of more interest for the scope of the site.
There are many fine moments on this album full of good interplay and good songwriting making this album a sort of example of progressive blues and proto-prog. The two part water is actually book-ending the album and some tracks such as Junior's Wailing , Even The Clock and 24 hours are very enjoyable. Hardly essential listening in the Archives's scope , this albunm remains a very pleasant spin in your deck. much better is to come, though.
Please note that this album came out with different sleeves back then and that all Steamhammer records have been reissued on the Repertoire label in the early 90's, although never in the mini-lp format as here on the Italian label Akarma.


Songs / Tracks Listing
1. Water, Pt. 1 (0:52)
2. Junior's Wailing(3:18)
3. Lost You Too (3:28)
4. She Is the Fire (3:10)
5. You'll Never Know (3:27)
6. Even the Clock (3:49)
7. Down the Highway (4:28)
8. On Your Road (2:43)
9. Twenty-Four Hours (7:28)
10. When All Your Friends Are Gone (3:49)
11. Water, Pt. 2 (1:44)

Total Time: 38:07
Line-up / Musicians
- Kieran White / vocals, harmonica, acoustic guitar
- Martin Pugh / lead guitar
- Martin Quittenton / guitar
- Steve Davey / bass
- Michael Rushton / drums