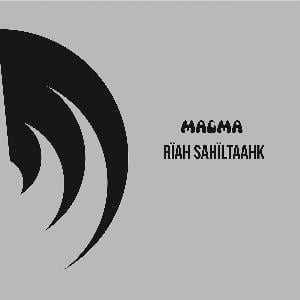 RÏAH SAHÏLTAAHK is listed by most sources as a new studio album by MAGMA but it is in fact simply a re-recording of the first track of the same name from their second album "1001 Degrees Centigrades" which came out all the way back in 1971. This album clocks in at a mere 24:24 so no matter what it "officially" is, this is a freakin' EP in my book. This is one of those projects that makes you scratch your head and wonder why such a thing was necessary. To the casual listener there seems to be few differences between the two but a more careful inspection and repeated listens does yield some substantial changes. Just check out the lineup between the 1971 version and the newest of 2014.
1971 verison
- Christian VANDER : vocals, drums, percussion - Klaus BLASQUIZ : vocals, percussion - François CAHEN : acoustic & electric pianos - Francis MOZE : bass - Teddy LASRY : clarinet, sax, flute, voice - Jeff SEFFER : sax, bass clarinet - Louis TOESCA : trumpet
2014 version
Stella VANDER : vocals Isabelle FEUILLEBOIS : vocals Hervé AKNIN : vocals Benoît ALZIARY : vibraphone James MAC GAW : guitar Jérémie TERNOY : piano Philippe BUSSONNET : bass Christian VANDER : drums, vocals, piano
On the newer version basically we get no horns, more female vocals and a vibraphone. Also the production is quite different as well. The music is one continuous track on the original but only clocks in at 21:45 so a few minutes shorter. On the newer version we we get eight separate tracks that constitute the movements. The artwork is remnant of the original album as well only instead of duct tape grey it is a glimmering silver with the MAGMA emblem wrapped around the front and back instead of boldly displayed in full on the front.
This is story on the Seventh Records website: RÏAH SAHÏLTAAHK is the name of the Kobaïan who left after all the others, despite their disapproval. He thought he was better than anyone else and he was sure he could convert Kobaïa's enemies to the Kobaïan spirit. But he failed and left alone for Kobaïa. On the symbolic stop-over planet, Malaria, he has to face the raging elements he thinks he can dominate. With his ship almost sunk, he ends up begging them - to no avail. He will disappear. Drowned, swept away by the frenzied elements. After the noise? silence. At dawn, only a finally calmed remains, enlightened by the soft beams of the sun in this new day.
Honestly, I can't say I really like one thing better than the original. The first thing you notice on the new version is that the tempo is just a bit slower and the production is amped up which seems too beefy for some reason. The original version seemed to have more spontaneity and improvisation in the zaniness department. Absent are the blood-curdling screams and high pitched freakouts during frenzied time-outs from the main scheme of things. I actually really love the horn sections of the first two MAGMA albums and find that here Vander sounds like he is trying to MDK his earlier works. This just seems unnecessary to me as a fan, but as a man Christian Vander who has obviously been pining over re-releasing this for sometime just had to bring it to fruition. Now that he has I am dumbfounded by his decision to carry through when, to me at least, the original is the superior. I categorize this as indulgently unnecessary so I cannot give this the same five star rating that I gave the "1001 Degrees Centigrades" album, however this music even if inferior to the original is still completely enchanting and simply MAGMA-nanimous so to give it less than four stars would simply be a crime against humanity. I just hope this isn't the beginning of a trend to repackage the entire back catalog when MAGMA proves time and time again that as a musical outfit it is quite capable of releasing fresh and relevant music in the 21st century.Review from
Progarchives.com
Songs / Tracks Listing
1. Watseï kobaïa (4:40)
2. Di mahntër sahïltaahk (3:00)
3. Süri sï toïdo (3:31)
4. Ün zoïn glaö (3:10)
5. Ïss walomëhn dôm (2:25)
6. Bradïa ëtnah (2:24)
7. Môm loïlë (3:45)
8. Woleï (1:29)

Total Time: 24:24
Line-up / Musicians
- Stella Vander / voice
- Isabelle Feuillebois / voice
- Hervé Aknin / voice
- Benoît Alziary / vibraphone
- James Mac Gaw / guitar
- Jérémie Ternoy / piano
- Philippe Bussonet / bass
- Christian Vander / drums, voice, piano