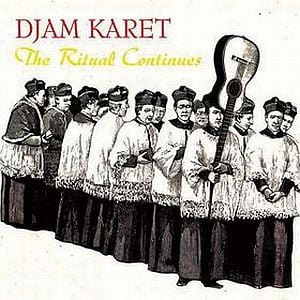 "The Ritual Continues" contains the oldest songs available by DJAM KARET. Seven of the tracks are from live shows performed in February 1987 and two of the tracks are recorded in January 1982 under the band name HAPPY CANCER. Besides some voices here and there, the album is all-instrumental. The album became "#4 Album Of 1988" in Electronic Musician magazine. Strangely enough I wouldn't call it an electronic album. There are Ambient influences and reminiscences to TANGERINE DREAM on it, but there's also the typical DJAM KARET progressive guitar rock blended with reminiscences to KiING CRIMSON and PINK FLOYD. The highlight is "Technology and Industry" where some of the KING CRIMSON similarities are shown. This is an interesting release all-in-all, although it isn't one of DJAM KARET's best albums

(Review from progarchives.com)
"Good, but non-essential". That's what defines best Djam Karet's music. They're gifted, they sure can play and jam, but there is definitely nothing new emerging from their evergrowing catalogue. Their first one is their best. With addition of early Happy Cancer's old material, "The Ritual Continues" multiplies its perspective and shows the path that the band will endlessely explore from one album to another. ECM alike ambient kind of exposition ("Revisiting A Nice Place: Falling Down 1993") next to overtly King Crismon influenced tracks ("Technology And Industry"), Djam Karet sounds instantly Djam Karet when they mix both on such prime songs as "Shamen's Descent", "Familiar Winds", "The Black River" or the title track. Honestly, if you can get this one, you'll find quickly that all of their other releases are unecessary.
(Review from progarchives.com)

Top progressive rock band from the states who are particularly adept at crossing ambient styles with rock.

Songs / Tracks Listing

1. Shamen's Descent (7:17)
2. Tangerine Rabbit Jam (4:07)
3. Familiar Winds (6:29)
4. The Black River (6:42)
5. Technology And Industry (5:00)
6. The Ritual Continues (8:34)
7. Fractured (4:42)
8. Night Scenes (5:37)
9. Revisiting A Nice Place: Falling Down 1993 (16:56)

Total Time: 65:24

Line-up / Musicians

- Gayle Ellett / guitar, guitar synth, percussion(1,3-7,9)
- Andy Frankel / drums, vibes (2,8), African percussion (7)
- John Glass / electric guitar (2,8)
- Mike Henderson / six and twelve guitars, drums, percussion
- Henry J. Osborne / bass, percussion