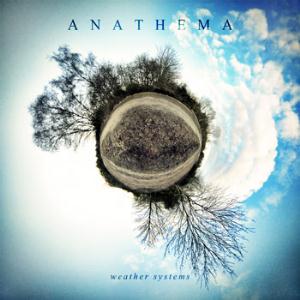 "Weather Systems" is a well organized collection of (occasionally) gorgeously stunning pieces of music.
'"We're Here Because We're Here" was an almost drastic change in direction for former Doom Metal band Anathema; this band had released for over a decade music that incorporated progressively smaller amounts of Metal influences, and had gone towards a cleaner, more Alternative Rock/Progressive rock type of path. But the 2010 release was the most peaceful and softest album yet by the band; it contained beautifully enlightening songs, had a wonderful flow, and was simply a delight to listen to all the way through. "Weather Systems", two years later, attempts to do the same thing, and, while it is successful in many ways, it doesn't quite live up to the sheer bliss of "We're Here Because We're Here".
I personally doubt Anathema would get any quieter than this: this album is in many ways a sort of WHBWH 2.0: the production is the same, the atmospheres barely change, the melodies are still haunting, melodramatic, and emotional. They are some undeniable changes that can be heard, like the massive presence of the acoustic guitar, and a heavier use of electronics in some spots. But, other than that, the album doesn't bring anything new up to the table.
This would usually annoy me, when an album is simply a photocopy of another release by the same band (or different band), but the songs themselves are for me a huge saving grace: even though the two parts of "Untouchable" that open the album are a little generic, the best moments can be found in the dead center of the album; "The Gathering Of The Clouds", "Lightning Song" and "Sunlight" to me are the most precious achievements the album accomplished; there are heavy Alternative Rock influences in all of these tracks, especially in the hauntingly memorable melodies, but their surrounding aura is undeniably Progressive. "The Storm and the Calm" though is a disappointment, especially the first part of it, where the main hooks don't appeal to me at all. The song runs for nine minutes, and is admittedly very well structured, something you realize when the second part of the song kicks in, but those first couple of minutes are hard to forgive. Even though "The Lost Child" has some nice and delicate tones, it is at times a little too melodramatic, but that is compensated by the final track, "Internal Landscapes", a very strong ending to the album that brings up and seals some reoccurring concepts in an even more explicit way, thanks to the presence of a sample of a man who narrates how he faced a near-death experience,e and found the light consequently; but the song itself also has a very bright, illuminated feel, more than a few of some tracks here.
"Weather Systems" fails only in one thing, which is attempting to distance itself from it's predecessor. Despite a few weaker songs, this Anathema album contains some really pleasurable songs (which is to be expected from this band) and overall, manages to keep the attention of the listener always in sync, a talent that isn't natural for many musicians. But because of the overall accessible nature of these mellow, emotional tracks, Anathema accomplish the task seemingly without much effort.Review from
Progarchives.com
Songs / Tracks Listing

1. Untouchable Part 1 (6.14)
2. Untouchable Part 2 (5.33)
3. The Gathering Of The Clouds (3.27)
4. Lightning Song (5.25)
5. Sunlight (4.55)
6. The Storm Before The Calm (9.24)
7. The Beginning And The End (4.53)
8. The Lost Child (7.02)
9. Internal Landscapes (8.52)

Total Time 55:45
Line-up / Musicians
- Vincent Cavanagh / vocals, keys, programming, guitars, bass, synths
- Daniel Cavanagh / guitars, keys, piano, bass; vocals on tracks 5 & 8
- Lee Douglas / vocals
- John Douglas / drums; synths and programming on track 6